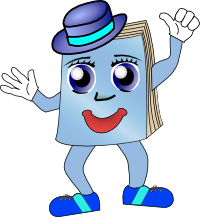 Baxter the Book is a mascot for Galion Public Library.
Early Life
Baxter began his life as a disadvantaged, orphaned young book, without parents or even a name. When we first met him, he owned nothing but the shoes he was wearing. Library employees befriended him and found a hat for him to wear.
Career
Baxter came to Galion Public Library in spring of 2005, taking the newly-created position of
Mascot
. His responsibilities involve various aspects of public relations, such as announcing library programs and livening up library newsletters and other promotional materials.
Name
Baxter received his name when he was adopted by the library in the summer of 2005, about two months after arriving. His name was chosen as a result of a naming contest. Children who visited the library submitted suggestions for his name, and
Baxter
was the winning entry. Baxter is happy to have a name to call his own.