Newest Audio Book: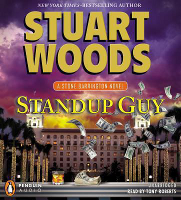 Stone Barrington's newest client does not seem the type to bring mayhem in his wake.
A polite, well-deported gentleman, he comes to Stone seeking legal expertise on an unusual (and potentially lucrative) dilemma. Stone points him in the right direction and sends him on his way, but it's soon clear that Stone hasn't seen the end of the case.
Several people are keenly interested in this gentleman's activities and how they may relate to a long-ago crime. Some of them will stop at nothing to find the information they desire.
---
---
Older Audio Books:
2014
NYPD Red 2, by (May 27th)
Winners, by (April 28th)
2013
Her Last Breath, by (October 28th)
The Longest Ride, by (October 7th)
The Last Runaway, by (July 16th)
Don't Go, by (June 10th)
Dodger, by (May 13th)
Until the End of Time, by (March 4th)
2012
Missing (The Secrets of Crittenden County), by (August 6th)
Nearing Home: Life, Faith and Finishing Well, by (May 7th)
Heaven is for Real (Audiobook), by (February 13th)
A Marriage Carol, by (December 19th)
Cursed, by (August 9th)
Beat the Reaper : A Novel, by (June 27th)
This Time Together: Laughter and Reflection, by (October 11th)
Stones Into Schools, by (May 31st)
True Believer, by (May 24th)
First Rule, by (May 17th)
Commitments (Audio C.D.), by (May 10th)
My Life in France, by (March 22nd)
The Quickie, by (November 2nd)
The Hope Chest, by (September 8th)
The Betrayal, by (August 31st)
Guardian of Lies, by (August 24th)
The Apostle, by (August 17th)
Your Heart Belongs to Me, by (June 1st)
Tea Time for the Traditionally Built, by (May 26th)
Twilight, by (May 18th)
Fatally Flaky, by (May 11th)
Borderline, by (May 4th)
Handle With Care, by (April 27th)
Playing for Pizza, by (April 13th)
The Given Day, by (April 6th)
Spy Killer, by (March 30th)
Animals Make Us Human: Creating the Best Life for Animals, by (March 23rd)
The River Knows, by (March 16th)
Until We Reach Home, by (February 16th)
Demon of Dakar, by (February 2nd)
Lie Down With the Devil, by (January 19th)
You: Staying Young, by (October 27th)
Sail, by (October 13th)
The Whole truth, by (August 18th)
Sundays at Tiffany's, by (June 16th)
Remember Me, by (April 29th)
Compulsion, by (April 21st)
Lady Killer , by (March 28th)
Shadow Music, by (February 11th)
Born Standing Up, by (January 14th)
T is for Trespass, by (December 12th)
Playing for Pizza, by (November 12th)
You've Been Warned, by (November 5th)
Thousand Splendid Suns, by (September 24th)
Simple Genius, by (May 21st)
Step on a Crack, by (March 13th)
Cross, by (December 11th)
Finding Noel, by (December 4th)