Newest Children's Audio Book: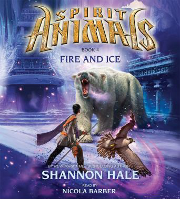 Strange things are happening at the frozen edge of the world. Conor, Abeke, Meilin, and Rollan have crisscrossed Erdas in their quest to stop the ruthless Conquerors.
Only the four of them, supported by the gifts of their legendary spirit animals, have the power to defeat an evil takeover. While chasing down a lead in the cold North, the heroes arrive at a quiet village where not everything is as it seems. Rooting the truth out of this deceptively beautiful place won't be easy, ­and the team is already out of time.
---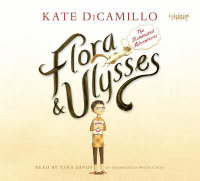 Rescuing a squirrel after an accident involving a vacuum cleaner, comic-reading cynic Flora Belle Buckman is astonished when the squirrel, Ulysses, demonstrates astonishing powers of strength and flight after being revived.
---
Older Children's Audio:
2014
Stage Fright, by (February 3rd)
Wild Born, by (January 20th)
2013
Cave of Wonders, by (December 16th)
Ninja Detective : The Case of the Time-Capsule Bandit, by (December 2nd)
The Boy on the Wooden Box, by (November 25th)
Scorpia Rising, by (October 25th)
2009
The Graveyard Book, by (February 23rd)