Newest Children's Book: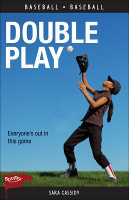 Allie loves baseball. It's the one thing that has been consistent in her lately complicated life.
Allie's father left recently, and now Allie has a new family: her mother's new girlfriend, Phyllis, and son Miles have moved in. It's taking some adjustment, mostly because Miles seems determined to get under her skin. Things start looking up when Allie gets invited to join the boy's baseball team as their new pitcher.
Then Miles announces he's quitting the boy's team and tries out for Allie's old team -- a girl's team! Allie is sure he's doing it just to annoy her, but Miles insists that he just likes the girls' style of play better. As Allie struggles to find her place on the boy's team, she starts to see that Miles is just trying to fit in as well, and that it may be even harder for him than it has been for her.
---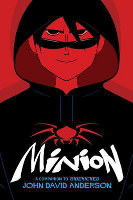 Michael Morn might be a villain, but he's really not a bad guy.
When you live in New Liberty, known across the country as the City without a Super, there are only two kinds of people, after all: those who turn to crime and those who suffer. Michael and his adoptive father spend their days building boxes, special devices with mysterious abilities, which they sell to the mob at a price. They provide for each other, they look out for each other, and they'd never betray each other.
Then a Super comes to town, and Michael's world is thrown into disarray. The Comet could destroy everything Michael and his dad have built, the safe and secure life they've made for themselves. And now Michael and his father face a choice: to hold tight to their life or to let it unravel.
Gordon Blue and his brother Benny, unlikely superheroes, must save Fowladelphia from Granny Goosebumps, who has filled the city with cookies that cause innocent chickens' feathers to fall off.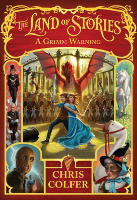 Conner Bailey thinks his fairy-tale adventures are behind him, until he discovers a mysterious clue left by the famous Brothers Grimm.
With help from his classmate Bree and the outlandish Mother Goose, Conner sets off on a mission across Europe to crack a two-hundred-year-old code. Meanwhile, Alex Bailey is training to become the next Fairy Godmother, but her attempts at granting wishes never go as planned. Will she ever be truly ready to lead the Fairy Council?
When all signs point to disaster for the Land of Stories, Conner and Alex must join forces with their friends and enemies to save the day. Nothing can prepare them for the coming battle or for the secret that will change the twins' lives forever.
The third book in the bestselling Land of Stories series puts the twins to the test as they must bring two worlds together.
Hal and his fellow Herons have returned home to Skandia after defeating the pirate captain Zavac and reclaiming Skandia's most prized artifact, the Andomal.
With their honor restored, the Herons turn to a new mission: tracking down an old rival turned bitter enemy. Tursgud, leader of the Shark Brotherband and Hal's constant opponent, has turned from a bullying youth into a pirate and slave trader. After Tursgud captures twelve Araluen villagers to sell as slaves, the Heron crew sails into action, with the help of one of Araluen's finest Rangers.
In this fourth book in the Brotherband Chronicles, a new battle unfolds as old rivalries are renewed, peace treaties are put to the test, and the action builds to a pulse-pounding finale.
The Castle Behind Thorns
by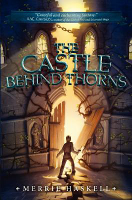 Stories don't know everything.
When Sand wakes up alone in a long-abandoned castle, he has no idea how he got there. The stories all said the place was ruined by an earthquake, and Sand did not expect to find everything inside torn in half or smashed to bits. Nothing lives here and nothing grows, except the vicious, thorny bramble that holds Sand prisoner. Why wasn't this in the stories?
To survive, Sand does what he knows best: he fires up the castle's forge to mend what he needs. But the things he fixes work somehow better than they ought to. Is there magic in the mending? Or have the saints who once guarded this place returned?
When Sand finds the castle's lost heir, Perrotte, they begin to untwine the dark secrets that caused the destruction. Putting together the pieces, of stone and iron and of a broken life, is harder than Sand ever imagined, but it's the only way to regain their freedom.
What if your birthday wish turned you into someone else?
Lavender and Scarlet are nothing alike. Scarlet is tall, pretty, and popular, the star of the soccer team and the queen of the school. Lavender is none of these things. Her friends aren't considered cool, her hair is considered less than uncool, and her performance at the recent talent show is something nobody will ever forget, even though she really, really wants it to be forgotten.
There's only one thing Lavender and Scarlet know for sure they have in common: the same birthday.
They've never had parties together. They've never swapped presents. But this year, because of two wishes that turned all too true, they are about to swap something much bigger than presents: the morning after their birthdays, Lavender is going to wake up in Scarlet's body, and Scarlet is going to wake up in Lavender's. In order to change back, they're going to have to figure out how to be someone completely opposite of who they ordinarily are.
---
Older Children's Fiction:
2014
Lantern Sam and the Blue Streak Bandits, by (June 9th)
Greetings from the Graveyard, by (May 27th)
West of the Moon, by (May 19th)
Jinx, by (March 25th)
The Life of Ty : Penguin Problems, by (March 10th)
How to Betray a Dragon's Hero, by (March 4th)
One Came Home, by (February 24th)
Jedi Academy, by (February 17th)
Stage Fright, by (February 3rd)
Desmond Pucket Makes Monster Magic, by (January 20th)
Wild Born, by (January 20th)
Play Ball!, by (December 26th)
Cave of Wonders, by (December 16th)
Ghost Hawk, by (December 16th)
The Abominables, by (December 2nd)
Terminal, by (November 25th)
Royal Ranger, by (November 18th)
I Survived the Japanese Tsunami, 2011, by (November 11th)
Mrs. Noodlekugel and Four Blind Mice, by (October 28th)
Scorpia Rising, by (October 25th)
The Fantastic Family Whipple, by (October 21st)
Russian Roulette, by (October 15th)
Dragon Run, by (October 7th)
Penelope Crumb, by (September 27th)
Freakling, by (September 16th)
The Thing About Luck, by (September 2nd)
Pi in the Sky, by (August 12th)
The Tell-Tale Start, by (July 26th)
Escape from Mr. Lemoncello's Library, by (July 16th)
Ivy Takes Care, by (June 24th)
Lawless, by (June 17th)
A Wrinkle in Time: The Graphic Novel, by (May 28th)
Fyre, by (May 20th)
Magicalamity, by (May 13th)
Thrice Upon a Marigold, by (May 6th)
Nobody's Perfect. I'm As Close As It Gets., by (April 29th)
On the Road to Mr. Mineo's, by (April 22nd)
Malcolm at Midnight, by (April 16th)
Cardboard, by (April 8th)
Day of Doom (The 39 Clues: Cahills vs. Vespers #6), by (April 2nd)
One Year in Coal Harbor, by (March 18th)
Nicholas St. North and the Battle of the Nightmare King, by (March 9th)
Son, by (February 18th)
Found (The Missing: Book 1), by (January 4th)
The Mitten, by (December 29th)
Boo-Hoo Moo, by (September 28th)
The Evolution of Calpurnia Tate, by (August 17th)
Yes Day!, by (July 27th)
Emma-Jean Lazarus Fell Out of a Tree, by (July 20th)
Rhyming Dust Bunnies, by (July 6th)
Dear Julia, by (March 2nd)
The Graveyard Book, by (February 23rd)
Chains, by (February 2nd)
Hate That Cat: A Novel, by (January 20th)