Newest Children's Book: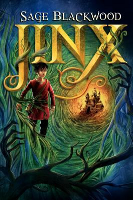 In the Urwald, you don't step off the path. Trolls, werewolves, and butter-churn-riding witches lurk amid the clawing branches, eager to swoop up the unwary. Jinx has always feared leaving the path; then he meets the wizard Simon Magus.
Jinx knows that wizards are evil, but Simon's kitchen is cozy, and he seems cranky rather than wicked. Staying with him appears to be Jinx's safest, and perhaps only, option. As Jinx's curiosity about magic grows, he learns to listen to the trees as closely as he does to Simon's unusual visitors. The more Jinx discovers, the more determined he becomes to explore beyond the security of well-trodden paths.
In the Urwald, a little healthy fear is never out of place, for magic, and magicians, can be as dangerous as the forest. Soon Jinx must decide which is the greater threat.
Sage Blackwood introduces a daring new hero for an innovative new world as Jinx is joined by friends, battles enemies, and discovers that life beyond and even within the forest is more complex than he can imagine, and that the Urwald itself needs him more than he could ever guess.
---
The Life of Ty : Penguin Problems
by
Winnie Perry's sweet baby brother, Ty, is the quintessential dreamer, full of big ideas and wacky plans that only a seven-year-old boy could hatch.
Whether it's battling the family cat with a Dustbuster or smuggling a baby penguin out of the aquarium, Ty is always in the middle of a well-intended, big-hearted scheme.
In the spirit of the Judy Moody spinoff Stink series, Ty will work his way into the hearts and funny bones of a whole new generation of Myracle fans.
How to Betray a Dragon's Hero
by
In Hiccup the Viking's misadventures, the stakes have never been higher, and it's friend versus foe to decide the fate of the world.
In this, the penultimate title in the amazing story arc that began with How to Train Your Dragon, Hiccup is faced with a personal dilemma against the backdrop of an impending battle and the possible destruction of everything he knows.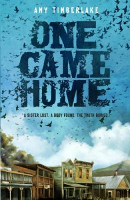 In the town of Placid, Wisconsin in 1871, Georgie Burkhardt is known for two things: her uncanny aim with a rifle and her habit of speaking her mind plainly.
When Georgie blurts out something she shouldn't, her older sister Agatha flees, running off with a pack of pigeoners trailing the passenger pigeon migration. When the sheriff returns to town with an unidentifiable body, wearing Agatha's blue-green ball gown, everyone assumes the worst, except for Georgie.
Refusing to believe the facts that are laid down (and coffined) before her, Georgie sets out on a journey to find her sister. She will track every last clue and shred of evidence to bring Agatha home. Yet even with resolute determination and her trusty Springfield single-shot, Georgie is not prepared for what she faces on the western frontier.
Roan's one dream is to leave home and attend Pilot Academy like his older brother, father, and grandfather. But just as Roan is mysteriously denied entrance to Pilot Academy, he is invited to attend Jedi Academy, a school that he didn't apply to and only recruits children when they are just a few years old. That is, until now...
This inventive novel follows Roan's first year at Jedi Academy where, under the tutelage of Master Yoda, he learns that he possesses more strength and potential than he could have ever dreamed. Oh, and he learns other important things too, like how to make a baking soda volcano, fence with a lightsaber, slow dance with a girl, and lift boulders with the Force.
This incredible, original story captures all of the humor, awkwardness, fun, and frustrations of middle school, all told through one boy's comics, journal entries, letters, doodles, and newspaper clippings. New York Times bestselling author/illustrator Jeffrey Brown takes readers to a middle school in a galaxy far, far away...
Mrs. Hunter's fourth grade class is putting on a play; but Allie's theatrical hopes are crushed when she doesn't get cast as the princess.
Instead, Allie is cast as the evil queen. As opening night approaches, Allie learns its not the size of the part; it's the size of the heart that really matters.
Desmond Pucket Makes Monster Magic
by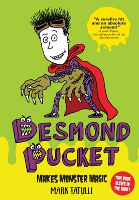 Meet Desmond Pucket, professor of frightology and master of monsters.
Someday Desmond will be famous for his special effects wizardry, but for now he's just trying to make it through sixth grade at Cloverfield Memorial Junior High, which means he needs to stay one step ahead of the school's disciplinary officer, Mr. Needles.
The only problem is Desmond just can't stop pulling pranks, like the time he attached a shrieking rubber goblin to the toilet seat in the teachers' bathroom. (Mrs. Rubin screamed so loud her wig flew off.) Or the time he put giant motorized worms into the mashed potatoes in the cafeteria. Or the time Desmond and his best friend, Ricky, arranged for a three-headed ghost to crash his sister's slumber party. Rachel still hasn't forgiven him.
Now Desmond has to stay prank-free for the rest of the year, or he won't be able to go on the class trip to Crab Shell Pier, home of the Mountain Full of Monsters ride. It's going to be tough, but Desmond has to try.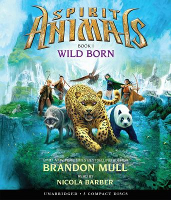 Four children separated by vast distances all undergo the same ritual, watched by cloaked strangers. Four flashes of light erupt, and from them emerge the unmistakable shapes of incredible beasts: a wolf, a leopard, a panda, and a falcon. Suddenly the paths of these children, and the world, have been changed forever.
Enter the world of Erdas, where every child who comes of age must discover if they have a spirit animal, a rare bond between human and beast that bestows great powers to both. A dark force has risen from distant and long-forgotten lands and has begun an onslaught that will ravage the world. Now the fate of Erdas has fallen on the shoulders of four young strangers... and on you.
---
Older Children's Fiction:
2013
Play Ball!, by (December 26th)
Cave of Wonders, by (December 16th)
Ghost Hawk, by (December 16th)
The Abominables, by (December 2nd)
Terminal, by (November 25th)
Royal Ranger, by (November 18th)
I Survived the Japanese Tsunami, 2011, by (November 11th)
Mrs. Noodlekugel and Four Blind Mice, by (October 28th)
Scorpia Rising, by (October 25th)
The Fantastic Family Whipple, by (October 21st)
Russian Roulette, by (October 15th)
Dragon Run, by (October 7th)
Penelope Crumb, by (September 27th)
Freakling, by (September 16th)
The Thing About Luck, by (September 2nd)
Pi in the Sky, by (August 12th)
The Tell-Tale Start, by (July 26th)
Escape from Mr. Lemoncello's Library, by (July 16th)
Ivy Takes Care, by (June 24th)
Lawless, by (June 17th)
A Wrinkle in Time: The Graphic Novel, by (May 28th)
Fyre, by (May 20th)
Magicalamity, by (May 13th)
Thrice Upon a Marigold, by (May 6th)
Nobody's Perfect. I'm As Close As It Gets., by (April 29th)
On the Road to Mr. Mineo's, by (April 22nd)
Malcolm at Midnight, by (April 16th)
Cardboard, by (April 8th)
Day of Doom (The 39 Clues: Cahills vs. Vespers #6), by (April 2nd)
One Year in Coal Harbor, by (March 18th)
Nicholas St. North and the Battle of the Nightmare King, by (March 9th)
Son, by (February 18th)
Found (The Missing: Book 1), by (January 4th)
The Mitten, by (December 29th)
Boo-Hoo Moo, by (September 28th)
The Evolution of Calpurnia Tate, by (August 17th)
Yes Day!, by (July 27th)
Emma-Jean Lazarus Fell Out of a Tree, by (July 20th)
Rhyming Dust Bunnies, by (July 6th)
Dear Julia, by (March 2nd)
The Graveyard Book, by (February 23rd)
Chains, by (February 2nd)
Hate That Cat: A Novel, by (January 20th)