Newest Children's Book: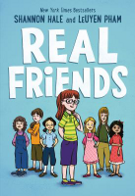 Shannon and Adrienne have been best friends ever since they were little. Then one day, Adrienne starts hanging out with Jen, the most popular girl in class and the leader of a circle of friends called The Group.
Everyone in The Group wants to be Jen's #1, and some girls would do anything to stay on top, even if it means bullying others. Now every day is like a roller coaster for Shannon. Will she and Adrienne stay friends? Can she stand up for herself? Is she in The Group, or out?
Newbery Honor author Shannon Hale and New York Times bestselling illustrator LeUyen Pham join forces in this graphic memoir about how hard it is to find your real friends and why it's worth the journey.
---
Revenge of the Star Survivors
by
Middle school meets the Dark Side in this painfully funny survival story of social misfit Clark Sherman.
When Clark crash-lands on the inhospitable planet of Festus Middle School, he soon learns the natives don't take kindly to newcomers, particularly ones who practice Jedi mind tricks and follow nerdy TV shows like Star Survivors. As he faces a conspiring group of violent bullies, browbeaten teachers, and a fiendish principal, Clark knows he'll be lucky just to survive eighth grade.
Then, hope appears on the horizon: there is Les, the enigmatic boy who seems to disappear at will; Ricki, a fellow Star Survivors fan; and the independent-minded librarian, Ms. Beacon. When Clark and his newfound allies are imperiled, he gathers his courage and the consequences of his actions ripple through the galaxy in life-altering ways.
---
Older Children's Fiction:
2016
The Sword of Summer, by (February 9th)
2015
The Isle of the Lost, by (August 20th)
The Great War : Stories Inspired by Items from the First World War (July 27th)
The Secret Hum of a Daisy, by (July 8th)
Finding Serendipity, by (June 19th)
The Imaginary, by (May 20th)
Big Game, by (April 27th)
Scorpion Mountain, by (March 30th)
House of Robots, by (March 30th)
Ares: Bringer of War, by (March 9th)
Fantasy League, by (December 29th)
The Key That Swallowed Joey Pigza, by (October 6th)
Frank Einstein and the Antimatter Motor, by (September 29th)
The Fourteenth Goldfish, by (September 22nd)
Double Play, by (September 8th)
Minion, by (August 18th)
Let's Get Cracking!, by (August 12th)
A Grimm Warning, by (August 7th)
Slaves of Socorro, by (July 28th)
The Castle Behind Thorns, by (July 7th)
Switched at Birthday, by (June 25th)
Lantern Sam and the Blue Streak Bandits, by (June 9th)
Greetings from the Graveyard, by (May 27th)
West of the Moon, by (May 19th)
Jinx, by (March 25th)
The Life of Ty : Penguin Problems, by (March 10th)
How to Betray a Dragon's Hero, by (March 4th)
One Came Home, by (February 24th)
Jedi Academy, by (February 17th)
Stage Fright, by (February 3rd)
Desmond Pucket Makes Monster Magic, by (January 20th)
Wild Born, by (January 20th)
Play Ball!, by (December 26th)
Cave of Wonders, by (December 16th)
Ghost Hawk, by (December 16th)
The Abominables, by (December 2nd)
Terminal, by (November 25th)
Royal Ranger, by (November 18th)
I Survived the Japanese Tsunami, 2011, by (November 11th)
Mrs. Noodlekugel and Four Blind Mice, by (October 28th)
Scorpia Rising, by (October 25th)
The Fantastic Family Whipple, by (October 21st)
Russian Roulette, by (October 15th)
Dragon Run, by (October 7th)
Penelope Crumb, by (September 27th)
Freakling, by (September 16th)
The Thing About Luck, by (September 2nd)
Pi in the Sky, by (August 12th)
The Tell-Tale Start, by (July 26th)
Escape from Mr. Lemoncello's Library, by (July 16th)
Ivy Takes Care, by (June 24th)
Lawless, by (June 17th)
A Wrinkle in Time: The Graphic Novel, by (May 28th)
Fyre, by (May 20th)
Magicalamity, by (May 13th)
Thrice Upon a Marigold, by (May 6th)
Nobody's Perfect. I'm As Close As It Gets., by (April 29th)
On the Road to Mr. Mineo's, by (April 22nd)
Malcolm at Midnight, by (April 16th)
Cardboard, by (April 8th)
Day of Doom (The 39 Clues: Cahills vs. Vespers #6), by (April 2nd)
One Year in Coal Harbor, by (March 18th)
Nicholas St. North and the Battle of the Nightmare King, by (March 9th)
Son, by (February 18th)
Found (The Missing: Book 1), by (January 4th)
The Mitten, by (December 29th)
Boo-Hoo Moo, by (September 28th)
The Evolution of Calpurnia Tate, by (August 17th)
Yes Day!, by (July 27th)
Emma-Jean Lazarus Fell Out of a Tree, by (July 20th)
Rhyming Dust Bunnies, by (July 6th)
Dear Julia, by (March 2nd)
The Graveyard Book, by (February 23rd)
Chains, by (February 2nd)
Hate That Cat: A Novel, by (January 20th)