Newest Children's Book:
The Key That Swallowed Joey Pigza
by
The fifth and final book in the groundbreaking Joey Pigza series brings the beloved chronicle of this wired, wacky, and wonderful boy to a crescendo of chaos and craziness, as everything goes topsy-turvy for Joey just as he starts to get his feet on the ground.
With his dad MIA in the wake of appearance-altering plastic surgery, Joey must give up school to look after his new baby brother and fill in for his mom, who hospitalizes herself to deal with a bad case of postpartum blues. As his challenges mount, Joey discovers a key that could unlock the secrets to his father's whereabouts, a mystery that must be solved before Joey can even hope that his broken family might somehow come back together: if only it doesn't pull him apart first.
---
Frank Einstein and the Antimatter Motor
by
Frank Einstein loves figuring out how the world works by creating household contraptions that are part science, part imagination, and definitely unusual.
After an uneventful experiment in his garage-lab, a lightning storm and flash of electricity bring two of Frank's inventions, the robots Klink and Klank, to life. Not exactly the ideal lab partners, the wisecracking Klink and the overly expressive Klank nonetheless help Frank attempt to perfect his Antimatter Motor, until Frank's archnemesis, T. Edison, steals Klink and Klank for his evil doomsday plan.
Using real science, Jon Scieszka has created a unique world of adventure and science fiction, an irresistible chemical reaction for middle-grade readers.
The Fourteenth Goldfish
by
Galileo. Newton. Salk. Oppenheimer. Science can change the world... but can it go too far?
Eleven-year-old Ellie has never liked change. She misses fifth grade. She misses her old best friend. She even misses her dearly departed goldfish. Then one day a strange boy shows up. He's bossy. He's cranky.
Weirdly enough, he looks a lot like Ellie's grandfather, a scientist who has always been slightly obsessed with immortality. Could this pimply boy really be Grandpa Melvin? Has he finally found the secret to eternal youth?
With a lighthearted touch and plenty of humor, Jennifer Holm celebrates the wonder of science and explores fascinating questions about life and death, family and friendship, immortality, and possibility.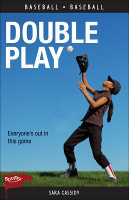 Allie loves baseball. It's the one thing that has been consistent in her lately complicated life.
Allie's father left recently, and now Allie has a new family: her mother's new girlfriend, Phyllis, and son Miles have moved in. It's taking some adjustment, mostly because Miles seems determined to get under her skin. Things start looking up when Allie gets invited to join the boy's baseball team as their new pitcher.
Then Miles announces he's quitting the boy's team and tries out for Allie's old team -- a girl's team! Allie is sure he's doing it just to annoy her, but Miles insists that he just likes the girls' style of play better. As Allie struggles to find her place on the boy's team, she starts to see that Miles is just trying to fit in as well, and that it may be even harder for him than it has been for her.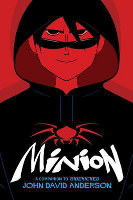 Michael Morn might be a villain, but he's really not a bad guy.
When you live in New Liberty, known across the country as the City without a Super, there are only two kinds of people, after all: those who turn to crime and those who suffer. Michael and his adoptive father spend their days building boxes, special devices with mysterious abilities, which they sell to the mob at a price. They provide for each other, they look out for each other, and they'd never betray each other.
Then a Super comes to town, and Michael's world is thrown into disarray. The Comet could destroy everything Michael and his dad have built, the safe and secure life they've made for themselves. And now Michael and his father face a choice: to hold tight to their life or to let it unravel.
---
Older Children's Fiction:
2014
Let's Get Cracking!, by (August 12th)
A Grimm Warning, by (August 7th)
Slaves of Socorro, by (July 28th)
The Castle Behind Thorns, by (July 7th)
Switched at Birthday, by (June 25th)
Lantern Sam and the Blue Streak Bandits, by (June 9th)
Greetings from the Graveyard, by (May 27th)
West of the Moon, by (May 19th)
Jinx, by (March 25th)
The Life of Ty : Penguin Problems, by (March 10th)
How to Betray a Dragon's Hero, by (March 4th)
One Came Home, by (February 24th)
Jedi Academy, by (February 17th)
Stage Fright, by (February 3rd)
Desmond Pucket Makes Monster Magic, by (January 20th)
Wild Born, by (January 20th)
Play Ball!, by (December 26th)
Cave of Wonders, by (December 16th)
Ghost Hawk, by (December 16th)
The Abominables, by (December 2nd)
Terminal, by (November 25th)
Royal Ranger, by (November 18th)
I Survived the Japanese Tsunami, 2011, by (November 11th)
Mrs. Noodlekugel and Four Blind Mice, by (October 28th)
Scorpia Rising, by (October 25th)
The Fantastic Family Whipple, by (October 21st)
Russian Roulette, by (October 15th)
Dragon Run, by (October 7th)
Penelope Crumb, by (September 27th)
Freakling, by (September 16th)
The Thing About Luck, by (September 2nd)
Pi in the Sky, by (August 12th)
The Tell-Tale Start, by (July 26th)
Escape from Mr. Lemoncello's Library, by (July 16th)
Ivy Takes Care, by (June 24th)
Lawless, by (June 17th)
A Wrinkle in Time: The Graphic Novel, by (May 28th)
Fyre, by (May 20th)
Magicalamity, by (May 13th)
Thrice Upon a Marigold, by (May 6th)
Nobody's Perfect. I'm As Close As It Gets., by (April 29th)
On the Road to Mr. Mineo's, by (April 22nd)
Malcolm at Midnight, by (April 16th)
Cardboard, by (April 8th)
Day of Doom (The 39 Clues: Cahills vs. Vespers #6), by (April 2nd)
One Year in Coal Harbor, by (March 18th)
Nicholas St. North and the Battle of the Nightmare King, by (March 9th)
Son, by (February 18th)
Found (The Missing: Book 1), by (January 4th)
The Mitten, by (December 29th)
Boo-Hoo Moo, by (September 28th)
The Evolution of Calpurnia Tate, by (August 17th)
Yes Day!, by (July 27th)
Emma-Jean Lazarus Fell Out of a Tree, by (July 20th)
Rhyming Dust Bunnies, by (July 6th)
Dear Julia, by (March 2nd)
The Graveyard Book, by (February 23rd)
Chains, by (February 2nd)
Hate That Cat: A Novel, by (January 20th)