Newest Children's Non-fiction Book:
The Animal Book : A Collection of the Fastest, Fiercest, Toughest, Cleverest, Shyest --and Most Surprising-- Animals on Earth
by
Animals smooth and spiky, fast and slow, hop and waddle through the two hundred plus pages of the Caldecott Honor artist Steve Jenkins's most impressive nonfiction offering yet.
Sections such as Animal Senses, Animal Extremes, and The Story of Life burst with fascinating facts and infographics that will have trivia buffs breathlessly asking, Do you know a termite queen can produce up to 30,000 eggs a day?
Jenkins's color-rich cut- and torn-paper artwork is as strikingly vivid as ever. Rounding out this bountiful browsers' almanac of more than three hundred animals are a discussion of the artist's bookmaking process, an animal index, a glossary, and a bibliography.
---
Handle with Care : An Unusual Butterfly Journey
by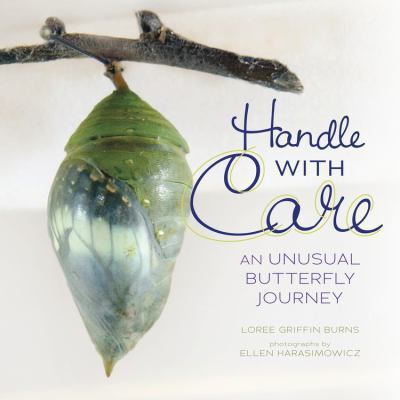 Some farms grow vegetables or grains, and some raise cows, sheep, chickens, or pigs; but have you ever heard of a butterfly farm? How do you raise a butterfly?
On a farm in Costa Rica, workers care for these delicate, winged creatures as they change from eggs to caterpillars to pupae. Like any other crop, the butterflies will eventually leave the farm, but where will they go, and just how do you ship a butterfly?
Very carefully. To discover how it works, follow these butterflies on a remarkable journey.
Parrots Over Puerto Rico
by
Above the treetops of Puerto Rico flies a flock of parrots as green as their island home. These are Puerto Rican parrots. They lived on this island for millions of years, and then they nearly vanished from the earth forever.
Puerto Rican parrots, once abundant, came perilously close to extinction in the 1960s due to centuries of foreign exploration and occupation, development, and habitat destruction. In this compelling book, Roth and Trumbore recount the efforts of the scientists of the Puerto Rican Parrot Recovery Program to save the parrots and ensure their future. Woven into the parrots' story is a brief history of Puerto Rico itself, from before the first human settlers to the present day.
With striking collage illustrations, a unique format, and engaging storytelling, Parrots Over Puerto Rico invites readers to witness the amazing recovery efforts that have enabled Puerto Rican parrots to fly over their island once again.
Rutherford B., Who Was He? : Poems about Our Presidents
by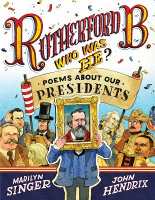 Forty-three men with forty-three passions, but with one thing in common: a presidential place in America's history.
With her gift for unforgettable rhythm and innovative rhyme, Marilyn Singer brings the Presidents of the United States to life, from Washington to Obama, and contextualizes them in their time.
Illustrations by John Hendrix are full of hilarious wit and refined exuberance, and backmatter enriches the experience with short biographies, quotes by each President, and more.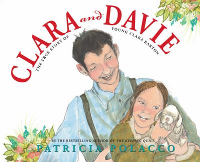 Animals and flowers were Clara's best friends. She had a special way with critters and found joy in the beauty that sprang from the soil. But whenever Clara talked, her words didn't come out right. As hard as she tried, she could not get over her lisp.
Clara's older brother Davie understood that his sister was gifted. When folks made fun of Clara's stilted words, Davie was always at her side reminding her that she had a talent for healing creatures.
Davie told his sister, Some day you are going to be a very great lady. That's exactly what happened. Clara Barton became one of the most famous medical practitioners of all time and founded the American Red Cross.
Adventures in Cartooning : Characters in Action!
by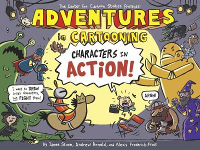 The Knight, Edward the chubby horse, and of course the Magic Cartooning Elf are back for more fun, but this time they're sharing the stage with a host of new characters.
In Adventures in Cartooning: Characters in Action you'll learn how to create your own kooky characters. Fresh faces are needed. The famous director Otto Airs is making a movie, and he has invited everyone in the kingdom to audition. It's your chance to dream up boatloads of wacky characters to star in the film.
Discover how body language and expression are used to tell a story, dress a wizard to the nines, and choose the perfect rogue robot. After following the heroes on their cartooning adventure, you'll be ready to create characters to star in your own comic book.
Lincoln's Grave Robbers
by
A true crime thriller, the first book for teens to tell the nearly unknown tale of the brazen attempt to steal Abraham Lincoln's body...
The action begins in October of 1875, as Secret Service agents raid the Fulton, Illinois, workshop of master counterfeiter Ben Boyd. Soon after Boyd is hauled off to prison, members of his counterfeiting ring gather in the back room of a smoky Chicago saloon to discuss how to spring their ringleader.
Their plan: Grab Lincoln's body from its Springfield tomb, stash it in the sand dunes near Lake Michigan, and demand, as a ransom, the release of Ben Boyd and $200,000 in cash. From here, the action alternates between the conspirators, the Secret Service agents on their trail, and the undercover agent moving back and forth between the two groups.
Along the way readers get glimpses into the inner workings of counterfeiting, grave robbing, detective work, and the early days of the Secret Service. The plot moves toward a wild climax as robbers and lawmen converge at Lincoln's tomb on election night: November 7, 1876.
Fourth Down and Inches : Concussions and Football's Make-or-Break Moment
by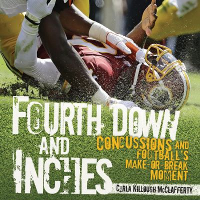 When the 1905 football season ended, nineteen players were dead, and countless others were critically injured. The public was outraged. The game had reached a make-or-break moment. Coaches, players, fans, and even the President of the United States had one last chance: change football or leave the field.
Football's defenders managed to move the chains. Rule changes and reforms after 1905 saved the game and cleared the way for it to become America's most popular sport; but they didn't fix everything.
Today, football faces a new injury crisis as dire as 1905's. With increased awareness about brain injury, reported concussions are on the rise among football players, but experts fear concussions may only be the tip of the iceberg. The injuries are almost invisible, but the stakes couldn't be higher: the brains of millions of young football players across the country.
Award-winning author Carla Killough McClafferty takes readers on a bone-crunching journey from football's origins to the latest research on concussion and traumatic brain injuries in the sport. Fourth Down and Inches features exclusive photography and interviews with scientists, players, and the families of athletes who have literally given everything to the game.
It's fourth and inches. Can football save itself again?
---
Older Children's Non-Fiction:
2013
Volcano Rising, by (December 26th)
No Monkeys, No Chocolate, by (December 16th)
The President Has Been Shot!: The Assassination of John F. Kennedy, by (December 2nd)
The Tree Lady : The True Story of How One Tree-Loving Woman Changed a City Forever, by (November 25th)
Lives of the Scientists : Experiments, Explosions (and What the Neighbors Thought), by (November 18th)
Jeff Kinney, by (October 28th)
See What A Seal Can Do, by (October 21st)
Walt Disney : The Man Behind the Magic, by (October 15th)
How Do You Burp in Space? : And Other Tips Every Space Tourist Needs to Know, by (October 7th)
LEGO Play Book : Ideas to Bring Your Bricks to Life, by (September 27th)
Battle of the Dinosaur Bones: Othniel Charles Marsh vs. Edward Drinker Cope, by (September 16th)
Lost Cities, by (September 2nd)
Rick Riordan, by (August 12th)
Saving the Environment, by (July 26th)
Dav Pilkey, by (July 16th)
The Impossible Rescue: The True Story of an Amazing Arctic Adventure, by (June 24th)
Stronger than Steel: Spider DNA and the Quest for Better Bulletproof Vests, Sutures, and Parachute Rope, by (June 17th)
Follow Follow : A Book of Reverso Poems, by (June 10th)
Miracle Mud: Lena Blackburne and the Secret Mud That Changed Baseball, by (May 20th)
Henry and the Cannons: An Extraordinary True Story of the American Revolution, by (May 13th)
Can You Survive an Earthquake?: An Interactive Survival Adventure, by (April 29th)
Alien Deep: Revealing the Mysterious Living World at the Bottom of the Ocean, by (April 16th)
The Fantastic Jungles of Henri Rousseau, by (April 8th)
The Technology of Basketball, by (April 2nd)
Eye Candy: Crafting Cool Candy Creations, by (March 9th)
Brothers at Bat: The True Story of an Amazing All-Brother Baseball Team, by (February 25th)
Bomb : The Race to Build - and Steal - the World's Most Dangerous Weapon, by (February 18th)
Guinness World Records 2010 (April 26th)
Open Me Up: Everything You Need to Know About the Human Body, by (January 22nd)
Big George: How a Shy Boy Became President Washington, by (September 21st)
The Frog Scientist, by (September 14th)
Extreme Scientists: Exploring Nature's Mysteries from Perilous Places, by (August 8th)
Getting Ready for the Fair, by (July 13th)
Bees, Snails & Peacock Tails, by (March 23rd)
Helen's Eyes: A Photobiography of Annie Sullivan, Helen Keller's Teacher, by (March 9th)
Our White House: Looking In, Looking Out, by (March 2nd)
Frogs, by (February 23rd)
What the World Eats, by (January 20th)