Newest Children's Non-fiction Book:
Lives of the Scientists : Experiments, Explosions (and What the Neighbors Thought)
by
Scientists have a reputation for being focused on their work, maybe even dull. Take another look.
Did you know that it's believed Galileo was scolded by the Roman Inquisition for sassing his mom? ... that Isaac Newton loved to examine soap bubbles? ... that Albert Einstein loved to collect joke books, and that geneticist Barbara McClintock wore a Groucho Marx disguise in public?
With juicy tidbits about everything from favorite foods to first loves, the subjects of Lives of the Scientists are revealed as creative, bold, sometimes eccentric, and anything but dull.
---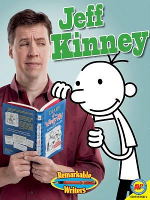 Jeff Kinney's cartoonish Diary of a Wimpy Kid book series has become a top seller among young readers. More than 50 million copies of the Wimpy Kid series have been sold around the world. Learn more about this remarkable writer and how he has become one of the world's most beloved authors.
See What A Seal Can Do
by
On the shore, a seal looks like a slow, dozy creature that spends its time lazing around or flumping along the sand. Underwater, it's a different story.
Splash! Seal dives deep, with a body just the right shape to shoot through the water and power down with his back flippers. He slips through a seaweed forest and, sensing a predator nearby, dives even deeper to stay safe. Finally, it's time to make a sudden twist and turn to catch his fishy dinner.
Merging a lyrical narrative sprinkled with fascinating facts and aww-inspiring illustrations, here is one nature adventure that's hard to resist. Follow a gray seal on a journey from sand to sea in an engaging, richly illustrated story with surefire kid appeal.
Walt Disney : The Man Behind the Magic
by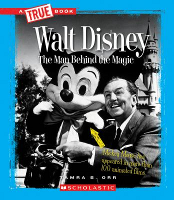 Today, Walt Disney's name is synonymous with family entertainment. The theme parks, toys, television shows, and films that carry on his legacy are beloved by millions of people around the world.
Readers will discover how Disney built his massive business empire from the ground up, starting as an animator and eventually becoming wealthy as he expanded his interests.
How Do You Burp in Space? : And Other Tips Every Space Tourist Needs to Know
by
Space will always be a popular topic for the imagination, and with companies like Virgin Galactic putting real muscle behind developing space tourism, that imaginary space trip is closer than ever to becoming a reality. When it does, you're going to need How Do You Burp in Space?: And Other Tips Every Space Tourist Needs to Know.
This guide is filled with the same information you'd need to plan any vacation including what to pack (hint: no bubble bath or juggling balls); getting oriented in your new environment (16 sunrises and sunsets every day at the space station); what to expect from your accommodations (a sleeping bag attached to the wall), and what to do for fun (leapfrog on the moon). Grounded in the history of space travel and the planned future of space tourism, this guide book will leave young adventurers daydreaming about future intergalactic space vacations.
LEGO Play Book : Ideas to Bring Your Bricks to Life
by
Building on the success of wildly popular The LEGOŽ Ideas Book, here are all-new ways to encourage kids to think, build, and play creatively.
Featuring more than 200 different LEGO builds, this fun guide encourages readers to use their imagination and play in new ways, creating amazing LEGO models of their very own. Featuring a mixture of simple, medium, and complex models, LEGO Play Book will teach builders tips and tricks to get the most out of their blocks. All-new models along with all-new photography bring LEGO bricks to life.
There are ten-minute builds for quick play sessions, a cool brick feature with ideas for using key LEGO bricks, and a handful of bricks section exploring what can be done with a limited collection of LEGO bricks. This book is fantastic for any LEGO builder looking to be inspired to build and create.
Battle of the Dinosaur Bones: Othniel Charles Marsh vs. Edward Drinker Cope
by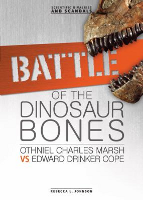 In the 1880s, science witnessed a major shift: Charles Darwin proposed his theory of evolution; people dug up the first dinosaur fossils; and the field of paleontology (the study of ancient plants and animals) emerged.
Othniel Charles Marsh and Edward Drinker Cope became enthralled with these new ideas, discoveries, and developments. Both were determined to become world-famous paleontologists. When they met in 1863, they started off as friends. Within a few years, competition drove the men apart. Each fought bitterly to discover more fossils, name more species, and publish more papers than the other. In their haste to outdo each other, they both produced some shoddy work. The resulting confusion took many years to discover and correct, and their toxic relationship crippled the field of paleontology for decades afterward.
However, the competition also produced a wealth of fossils. These laid a firm foundation for the field of paleontology and supported Darwin's theory of evolution. Marsh's and Cope's discoveries generated keen public interest in prehistoric life and rich data for future generations of paleontologists. This book explores the great rivalry between Marsh and Cope, showing how it brought out the best and the worst in them, while bringing humankind a brand-new view of life on Earth.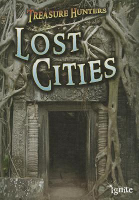 Lost Cities (part of the Treasure Hunters series) examines the search for lost cities and the important artifacts within them that can offer us an extraordinary window on to the past, a cross-curricular mix of science and technology and the history of civilizations, with a fun, dramatic approach.
Cities covered include Pompeii, Troy, Ubar, and Machu Picchu.
The book also looks at the motives for these searches, and the importance of responsible archaeology: were the treasure hunters driven by personal greed or glory, or did they embark on their quest with a historical interest and a desire to preserve the lost treasures?
---
Older Children's Non-Fiction:
2013
Rick Riordan, by (August 12th)
Saving the Environment, by (July 26th)
Dav Pilkey, by (July 16th)
The Impossible Rescue: The True Story of an Amazing Arctic Adventure, by (June 24th)
Stronger than Steel: Spider DNA and the Quest for Better Bulletproof Vests, Sutures, and Parachute Rope, by (June 17th)
Follow Follow : A Book of Reverso Poems, by (June 10th)
Miracle Mud: Lena Blackburne and the Secret Mud That Changed Baseball, by (May 20th)
Henry and the Cannons: An Extraordinary True Story of the American Revolution, by (May 13th)
Can You Survive an Earthquake?: An Interactive Survival Adventure, by (April 29th)
Alien Deep: Revealing the Mysterious Living World at the Bottom of the Ocean, by (April 16th)
The Fantastic Jungles of Henri Rousseau, by (April 8th)
The Technology of Basketball, by (April 2nd)
Eye Candy: Crafting Cool Candy Creations, by (March 9th)
Brothers at Bat: The True Story of an Amazing All-Brother Baseball Team, by (February 25th)
Bomb : The Race to Build - and Steal - the World's Most Dangerous Weapon, by (February 18th)
Guinness World Records 2010 (April 26th)
Open Me Up: Everything You Need to Know About the Human Body, by (January 22nd)
Big George: How a Shy Boy Became President Washington, by (September 21st)
The Frog Scientist, by (September 14th)
Extreme Scientists: Exploring Nature's Mysteries from Perilous Places, by (August 8th)
Getting Ready for the Fair, by (July 13th)
Bees, Snails & Peacock Tails, by (March 23rd)
Helen's Eyes: A Photobiography of Annie Sullivan, Helen Keller's Teacher, by (March 9th)
Our White House: Looking In, Looking Out, by (March 2nd)
Frogs, by (February 23rd)
What the World Eats, by (January 20th)