Newest Children's Non-fiction Book: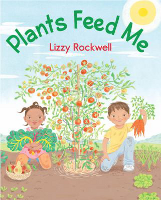 Watermelons are fruits. Cabbages are leaves. Walnuts are seeds. Carrots are roots. People eat many parts of plants, sometimes even the flowers.
Detailed illustrations teach new readers about the edible parts of different plants, including leaves, flowers, stems, roots, and seeds. Labeled diagrams explain how an apple seed can grow into a new plant, reveal how a walnut is contained within its shell, and show how wheat seeds make flour.
An elegant, easy-to-read text and beautiful illustrations describe the parts of plants that humans eat.
---
Zoobots : Wild Robots Inspired by Real Animals
by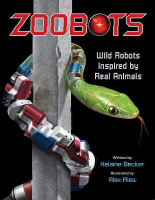 Innovations in the world of robotics are multiplying, with many cutting-edge breakthroughs, and this exciting and timely new book for young readers explores one particularly intriguing area: the world of robo-animals, or zoobots.
In an attempt to design robots that can solve problems or perform tasks that humans can't, or just can't do easily, roboticists have been looking at the unique skills some animals have. Using something called mechatronics (mechanical and electrical engineering combined with computer science) they are finding ways to closely mirror those skills in robot form.
Fascinating examples from the book of what zoobots can do include: finding survivors of a fire using sensitive, computerized whiskers; scaling skyscraper walls using super stickiness; or delivering drugs deep within the human body using microscopic whiptails for locomotion. Twelve zoobots are described, each on its own two-page spread.
Stone Giant: Michelangelo's David and How He Came to Be
by
Michelangelo saw something--someone--special in the stone.
No one wanted the giant. The hulking block of marble lay in the work yard, rained on, hacked at, and abandoned—until a young Michelangelo saw his David in it.
This is the story of how a neglected, discarded stone became a masterpiece for all time. It is also a story of how humans see themselves reflected in art.
Mysterious Patterns : Finding Fractals in Nature
by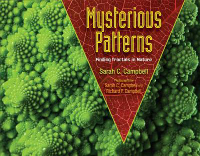 We see familiar shapes in nature all around us: this orange looks like a sphere, that icicle a cone, those cucumbers are almost cylinders. But trees, clouds, or broccoli, what shapes are they?
In this photo-filled conceptual picture book, young readers will not only get an introduction to those amazing and naturally repeating patterns called fractals, but they will also learn about what makes fractals unique. Curious kids will leave with a sense of wonder about the intricacies of the natural world and the many shapes around us.
The Cart That Carried Martin
by
The strength and spirit of Dr. Martin Luther King, Jr. permeates this picture book about the funeral of Dr. King in Atlanta, Georgia, in 1968.
Quiet yet affecting, The Cart That Carried Martin is a unique tribute to the life of a man known world-wide for his outstanding efforts as a leader of the African-American Civil Rights Movement.
---
Older Children's Non-Fiction:
2014
The Animal Book : A Collection of the Fastest, Fiercest, Toughest, Cleverest, Shyest --and Most Surprising-- Animals on Earth, by (March 25th)
Handle with Care : An Unusual Butterfly Journey, by (March 10th)
Parrots Over Puerto Rico, by (March 4th)
Rutherford B., Who Was He? : Poems about Our Presidents, by (February 24th)
Clara and Davie, by (February 17th)
Adventures in Cartooning : Characters in Action!, by (February 3rd)
Lincoln's Grave Robbers, by (January 20th)
Fourth Down and Inches : Concussions and Football's Make-or-Break Moment, by (January 13th)
2013
Volcano Rising, by (December 26th)
No Monkeys, No Chocolate, by (December 16th)
The President Has Been Shot!: The Assassination of John F. Kennedy, by (December 2nd)
The Tree Lady : The True Story of How One Tree-Loving Woman Changed a City Forever, by (November 25th)
Lives of the Scientists : Experiments, Explosions (and What the Neighbors Thought), by (November 18th)
Jeff Kinney, by (October 28th)
See What A Seal Can Do, by (October 21st)
Walt Disney : The Man Behind the Magic, by (October 15th)
How Do You Burp in Space? : And Other Tips Every Space Tourist Needs to Know, by (October 7th)
LEGO Play Book : Ideas to Bring Your Bricks to Life, by (September 27th)
Battle of the Dinosaur Bones: Othniel Charles Marsh vs. Edward Drinker Cope, by (September 16th)
Lost Cities, by (September 2nd)
Rick Riordan, by (August 12th)
Saving the Environment, by (July 26th)
Dav Pilkey, by (July 16th)
The Impossible Rescue: The True Story of an Amazing Arctic Adventure, by (June 24th)
Stronger than Steel: Spider DNA and the Quest for Better Bulletproof Vests, Sutures, and Parachute Rope, by (June 17th)
Follow Follow : A Book of Reverso Poems, by (June 10th)
Miracle Mud: Lena Blackburne and the Secret Mud That Changed Baseball, by (May 20th)
Henry and the Cannons: An Extraordinary True Story of the American Revolution, by (May 13th)
Can You Survive an Earthquake?: An Interactive Survival Adventure, by (April 29th)
Alien Deep: Revealing the Mysterious Living World at the Bottom of the Ocean, by (April 16th)
The Fantastic Jungles of Henri Rousseau, by (April 8th)
The Technology of Basketball, by (April 2nd)
Eye Candy: Crafting Cool Candy Creations, by (March 9th)
Brothers at Bat: The True Story of an Amazing All-Brother Baseball Team, by (February 25th)
Bomb : The Race to Build - and Steal - the World's Most Dangerous Weapon, by (February 18th)
Guinness World Records 2010 (April 26th)
Open Me Up: Everything You Need to Know About the Human Body, by (January 22nd)
Big George: How a Shy Boy Became President Washington, by (September 21st)
The Frog Scientist, by (September 14th)
Extreme Scientists: Exploring Nature's Mysteries from Perilous Places, by (August 8th)
Getting Ready for the Fair, by (July 13th)
Bees, Snails & Peacock Tails, by (March 23rd)
Helen's Eyes: A Photobiography of Annie Sullivan, Helen Keller's Teacher, by (March 9th)
Our White House: Looking In, Looking Out, by (March 2nd)
Frogs, by (February 23rd)
What the World Eats, by (January 20th)