Newest Children's Non-fiction Book: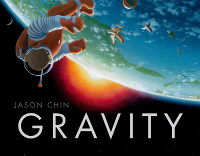 What keeps objects from floating out of your hand?
What if your feet drifted away from the ground?
What stops everything from floating into space?
Gravity.
As in his previous books, Jason Chin has taken a complex subject and made it brilliantly accessible to young readers in this unusual, innovative, and very beautiful book.
---
The Girl from the Tar Paper School: Barbara Rose Johns and the Advent of the Civil Rights Movement
by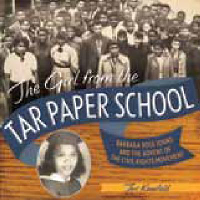 Before the Little Rock Nine, before Rosa Parks, before Martin Luther King Jr. and his March on Washington, there was Barbara Rose Johns, a teenager who used nonviolent civil disobedience to draw attention to her cause.
In 1951, witnessing the unfair conditions in her racially segregated high school, Barbara Johns led a walkout, the first public protest of its kind demanding racial equality in the U.S., jumpstarting the American civil rights movement. Ridiculed by the white superintendent and school board, local newspapers, and others, and even after a cross was burned on the school grounds, Barbara and her classmates held firm and did not give up. Her school's case went all the way to the Supreme Court and helped end segregation as part of Brown vs. the Board of Education.
Barbara Johns grew up to become a librarian in the Philadelphia school system. The Girl from the Tar Paper School mixes biography with social history and is illustrated with family photos, images of the school and town, and archival documents from classmates and local and national news media. The book includes a civil rights timeline, bibliography, and index.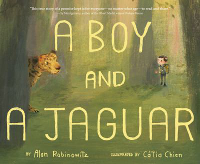 Alan loves animals, but the great cat house at the Bronx Zoo makes him sad.
Why are they all alone in empty cages? Are they being punished? More than anything, he wants to be their champion, their voice, but he stutters uncontrollably.
Except when he talks to animals... Then he is fluent.
Follow the life of the man TIME Magazine calls, the Indiana Jones of wildlife conservation as he searches for his voice and fulfills a promise to speak for animals, and people, who cannot speak for themselves. This real-life story with tender illustrations by Catia Chien explores truths not defined by the spoken word.
Park Scientists: Gila Monsters, Geysers, and Grizzly Bears in America's Own Backyard
by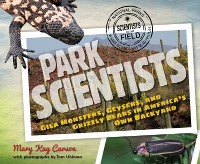 The national parks have been called America's best idea, and some of the best scientific ideas are happening right now inside these protected places that welcome 270 million plus visitors each year.
Meet up with scientists studying geysers, grizzlies, salamanders, cacti, and fireflies in some of America's most treasured places, our national parks.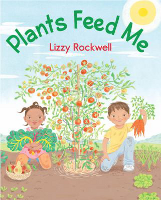 Watermelons are fruits. Cabbages are leaves. Walnuts are seeds. Carrots are roots. People eat many parts of plants, sometimes even the flowers.
Detailed illustrations teach new readers about the edible parts of different plants, including leaves, flowers, stems, roots, and seeds. Labeled diagrams explain how an apple seed can grow into a new plant, reveal how a walnut is contained within its shell, and show how wheat seeds make flour.
An elegant, easy-to-read text and beautiful illustrations describe the parts of plants that humans eat.
Zoobots : Wild Robots Inspired by Real Animals
by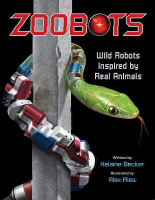 Innovations in the world of robotics are multiplying, with many cutting-edge breakthroughs, and this exciting and timely new book for young readers explores one particularly intriguing area: the world of robo-animals, or zoobots.
In an attempt to design robots that can solve problems or perform tasks that humans can't, or just can't do easily, roboticists have been looking at the unique skills some animals have. Using something called mechatronics (mechanical and electrical engineering combined with computer science) they are finding ways to closely mirror those skills in robot form.
Fascinating examples from the book of what zoobots can do include: finding survivors of a fire using sensitive, computerized whiskers; scaling skyscraper walls using super stickiness; or delivering drugs deep within the human body using microscopic whiptails for locomotion. Twelve zoobots are described, each on its own two-page spread.
---
Older Children's Non-Fiction:
2014
Stone Giant: Michelangelo's David and How He Came to Be, by (May 27th)
Mysterious Patterns : Finding Fractals in Nature, by (May 19th)
The Cart That Carried Martin, by (May 12th)
The Animal Book : A Collection of the Fastest, Fiercest, Toughest, Cleverest, Shyest --and Most Surprising-- Animals on Earth, by (March 25th)
Handle with Care : An Unusual Butterfly Journey, by (March 10th)
Parrots Over Puerto Rico, by (March 4th)
Rutherford B., Who Was He? : Poems about Our Presidents, by (February 24th)
Clara and Davie, by (February 17th)
Adventures in Cartooning : Characters in Action!, by (February 3rd)
Lincoln's Grave Robbers, by (January 20th)
Fourth Down and Inches : Concussions and Football's Make-or-Break Moment, by (January 13th)
Volcano Rising, by (December 26th)
No Monkeys, No Chocolate, by (December 16th)
The President Has Been Shot!: The Assassination of John F. Kennedy, by (December 2nd)
The Tree Lady : The True Story of How One Tree-Loving Woman Changed a City Forever, by (November 25th)
Lives of the Scientists : Experiments, Explosions (and What the Neighbors Thought), by (November 18th)
Jeff Kinney, by (October 28th)
See What A Seal Can Do, by (October 21st)
Walt Disney : The Man Behind the Magic, by (October 15th)
How Do You Burp in Space? : And Other Tips Every Space Tourist Needs to Know, by (October 7th)
LEGO Play Book : Ideas to Bring Your Bricks to Life, by (September 27th)
Battle of the Dinosaur Bones: Othniel Charles Marsh vs. Edward Drinker Cope, by (September 16th)
Lost Cities, by (September 2nd)
Rick Riordan, by (August 12th)
Saving the Environment, by (July 26th)
Dav Pilkey, by (July 16th)
The Impossible Rescue: The True Story of an Amazing Arctic Adventure, by (June 24th)
Stronger than Steel: Spider DNA and the Quest for Better Bulletproof Vests, Sutures, and Parachute Rope, by (June 17th)
Follow Follow : A Book of Reverso Poems, by (June 10th)
Miracle Mud: Lena Blackburne and the Secret Mud That Changed Baseball, by (May 20th)
Henry and the Cannons: An Extraordinary True Story of the American Revolution, by (May 13th)
Can You Survive an Earthquake?: An Interactive Survival Adventure, by (April 29th)
Alien Deep: Revealing the Mysterious Living World at the Bottom of the Ocean, by (April 16th)
The Fantastic Jungles of Henri Rousseau, by (April 8th)
The Technology of Basketball, by (April 2nd)
Eye Candy: Crafting Cool Candy Creations, by (March 9th)
Brothers at Bat: The True Story of an Amazing All-Brother Baseball Team, by (February 25th)
Bomb : The Race to Build - and Steal - the World's Most Dangerous Weapon, by (February 18th)
Guinness World Records 2010 (April 26th)
Open Me Up: Everything You Need to Know About the Human Body, by (January 22nd)
Big George: How a Shy Boy Became President Washington, by (September 21st)
The Frog Scientist, by (September 14th)
Extreme Scientists: Exploring Nature's Mysteries from Perilous Places, by (August 8th)
Getting Ready for the Fair, by (July 13th)
Bees, Snails & Peacock Tails, by (March 23rd)
Helen's Eyes: A Photobiography of Annie Sullivan, Helen Keller's Teacher, by (March 9th)
Our White House: Looking In, Looking Out, by (March 2nd)
Frogs, by (February 23rd)
What the World Eats, by (January 20th)