Newest Picture Book: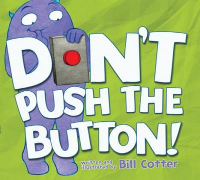 There's only one rule in Larry's book: don't push the button.
(Seriously, don't even think about it.)
Even if it does look kind of nice, you must never push the button. Who knows what would happen?
Okay, quick. No one is looking... push the button.
Uh, oh.
---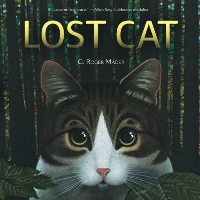 When Slipper is accidentally left behind, her journey begins. Luckily, everyone wants to be with her; but Slipper won't settle for just any home. She's determined to find the family that fits.
In shimmering pastels that bring each texture into brilliant focus, Roger Mader creates a story for all who believe in happily ever after.
Once upon a time in a very busy city, on a very busy street, in two very small apartments, lived... Herman and Rosie.
Herman liked playing the oboe, the smell of hot dogs in the winter, and watching films about the ocean.
Rosie liked pancakes, listening to old jazz records, and watching films about the ocean.
They both loved the groovy rhythm of the city, but sometimes the bustling crowds and constant motion left them lonely, until one night ...
Nacho likes to eat only one thing: gazpacho!
Gazpacho for breakfast, gazpacho for lunch, gazpacho for dinner, for snacks, and for brunch: Nacho won't even try other dishes, until he discovers miles and piles of mouthwatering vegetables at the market.
This lively rhyming story, sprinkled with Spanish, will delight little chefs. A recipe for Gazpacho and a Spanish glossary are included.
Buddy and the Bunnies in Don't Play with Your Food
by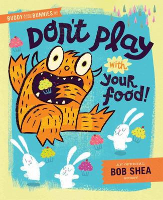 Rah! Buddy's a monster, and he's hungry! Time for all cute little bunnies to hop into his mouth.
Oh no! they say. There are cupcakes in the oven! They offer Buddy some, and he becomes too full to eat the bunnies. He'll have to come back tomorrow.
And so it goes between Buddy and the bunnies. They take him swimming, after which he is too tired to eat; they take him on all the rides at a carnival, after which he is too dizzy to eat; they even form a Buddy fan club . . . and who could eat their own fan club?
Eventually Buddy realizes that the bunnies have tricked him. The bunnies aren't food at all: they are friends! The bunnies' seemingly naive offers of friendship are a charming and clever mode of survival in this sweet and silly story about a not-at-all-scary monster.
Niņo Wrestles the World
by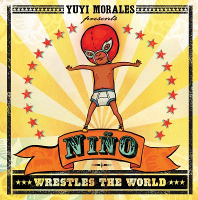 Seņoras y Seņores, put your hands together for the fantastic, spectacular, one of a kind . . . Niņo!
Fwap! Slish! Bloop! Krunch! He takes down his competition in a single move.
No opponent is too big a challenge for the cunning skills of Niņo, popsicle eater, toy lover, somersault expert, and world champion lucha libre competitor.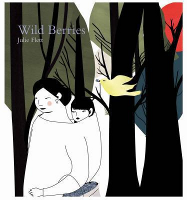 Tch, tch, sh, sh, tup, tup. Spend the day picking wild blueberries with Clarence and his grandmother.
Meet ant, spider, and fox in a beautiful woodland landscape, the ancestral home of author and illustrator Julie Flett. This book is written in both English and Cree, in particular the n-dialect, also known as Swampy Cree, from the Cumberland House area.
A bond of love unites a family throughout generations in this companion to The Keeping Quilt.
As a young Russian Jewish girl in the early 1900s, Anna and her family lived in fear of the Czar's soldiers. The family lived a hard life and had few possessions; their treasure was a beautiful china tea set. A wedding gift to Anna's parents, the tea set came with a wish that Anyone who drinks from this will have blessings from God. They will never know a day of hunger. Their lives will always have flavor. They will know love and joy, and they will never be poor.
When Anna's family leaves Russia for America, they bring the tea set and its blessings. A source of heritage and security, the tea set helps Anna's family make friends and find better lives in America. A cup from the tea set, The Blessing Cup, became an anchor of family history, and it remains a symbol of lasting love more than a century later.
This tender tribute to the importance of loving lineage is a prequel and companion to the perennial bestseller The Keeping Quilt and is told and illustrated with authenticity and tremendous heart.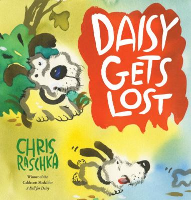 With the same emotional intensity that he brought to his earlier book A Ball for Daisy, Raschka has created a story that explores fear as only he can.
Any child who has ever felt lost will relate to Daisy's despair upon finding herself in an unfamiliar part of the park after chasing a squirrel. In a nearly wordless picture book, Daisy encounters the unease of being lost and the joys of being found. Raschka's signature swirling, impressionistic illustrations and his affectionate story will particularly appeal to young dog lovers, teachers, parents and, of course, the legions of Daisy fans out there.
Ernest B. Spinosaurus will do just about anything to ensure that Santasaurus brings him a Jurassic X10 scooter for Christmas.
He just knows if he can stay off the naughty list (a huge challenge) and write the best letters to Santa ever about his nice behavior, Santa will never know the real truth about Ernest's challenging year.
A fresh and funny addition to the pantheon of Christmas-themed picture books, this one is told through seventeen letters from Ernest to Santa (and Santasaurus's one letter in reply). Kids of all ages will recognize Ernest's sincere desire for the best gift ever and not-so-sincere attempt to ensure that he gets it. With hilarious illustrations by Jef Kaminsky, this book is sure to help kids count the days until Christmas.
---
Older Picture Books:
2013
Bogart and Vinnie : A Completely Made-Up Story of True Friendship, by (December 9th)
Tap the Magic Tree, by (December 2nd)
Hello, My Name Is Ruby, by (November 25th)
Fraidyzoo , by (November 11th)
Dinosaur Kisses, by (October 28th)
Pick a Circle, Gather Squares: A Fall Harvest of Shapes, by (October 21st)
Me And My Dragon: Scared of Halloween, by (October 15th)
Click, Clack, Boo!: A Tricky Treat, by (October 7th)
Mitchell Goes Bowling, by (September 27th)
The Matchbox Diary, by (September 16th)
The Day the Crayons Quit, by (September 2nd)
What Can a Crane Pick Up?, by (August 12th)
Cute and Cuter, by (July 26th)
Little Owl's Orange Scarf, by (July 16th)
A Big Guy Took My Ball!, by (June 24th)
Because I'm Your Dad, by (June 17th)
Otis and the Puppy, by (May 20th)
Take Me Out to the Yakyu, by (May 13th)
The Ant and the Grasshopper, by (May 6th)
Chloe, by (April 29th)
Red Hat, by (April 22nd)
The Three Ninja Pigs, by (April 16th)
This Moose Belongs to Me, by (April 2nd)
Those Darn Squirrels and the Cat Next Door, by (February 25th)