Newest Picture Book:
Bogart and Vinnie : A Completely Made-Up Story of True Friendship
by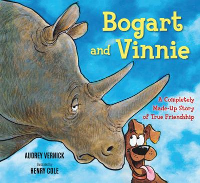 When Vinnie, a crazy-happy dog, gets lost while visiting a nature preserve with his family, he finds comfort in the company of Bogart, a big, lazy rhinoceros.
Vinnie loves his new friend, but Bogart would rather just take a nap. A friendship soon blossoms-even if Vinnie's definition of friendship is very different from Bogart's. When word of their unique situation spreads, Bogart and Vinnie are a worldwide sensation, but as soon as their fifteen seconds of fame ends, what's left is a bond even Bogart can't ignore.
Pairing picture-book veteran Henry Cole with up-and-coming author Audrey Vernick, this clever spoof of the unendingly popular interspecies animal-friendship story is full of heart and humor.
---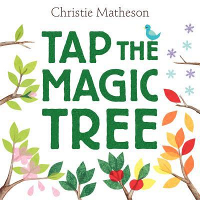 Every book needs you to turn the pages, but not every book needs you to tap it, shake it, jiggle it, or even blow it a kiss. Innovative and timeless, Tap the Magic Tree asks you to help one lonely tree change with the seasons.
It begins with a bare brown tree. Tap that tree, turn the page, and one bright green leaf has sprouted! Tap again, and more leaves have grown on the next page. Pat, clap, wiggle, jiggle, and see blossoms bloom, apples grow, and the leaves swirl away with the autumn breeze. The collage-and-watercolor art evokes the bright simplicity of Lois Ehlert and Eric Carle and the interactive concept will delight fans of Pat the Bunny.
Combining a playful spirit and a sense of wonder about nature, Christie Matheson has created a new modern classic that is a winner in every season—and every story time.
Hello, My Name Is Ruby
by
Join Ruby, a plucky little bird, as she ventures through life, making new friends, learning new skills, and asking questions, which may have some very surprising results.
Fearless Ruby's search for adventure, friendship and her place in the world comes to life through acclaimed author/illustrator Philip C. Stead's whimsical illustrations and succinct, charming text.
As her family hustles to get out the door, Little T lags behind. She's afraid to go back to the zoo; the only trouble is, she can't remember why.
As an ingenious solution to help her remember, her mom, dad, and sister construct homemade costumes and act out zoo animals—in alphabetical order, no less!
The costumes and scenes grow increasingly elaborate and breathtakingly creative. An umbrella and bubble wrap magically transform into a jellyfish, bath towels and a can of soda become a parrot, and many, many more. At the end of the day, Little T has conquered her fear and no longer feels like a fraidyzoo.
In this charming, witty picture book debut, Thyra Heder honors the bravery it takes to face your fears and the loving people who help you do so.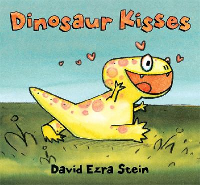 For newly hatched dinosaur Dinah, the world is an exciting place. There is so much to see and do.
She tries this -- STOMP! And she tries that -- CHOMP! Then she sees a kiss and knows just what she wants to try next.
Who can she kiss? After a few disastrous attempts, can she figure out how to give someone a kiss without whomping, chomping, or stomping them first?
Young children will chuckle and cheer when Dinah finds just the right creature for her dinosaur kisses in this funny new picture book from David Ezra Stein.
Pick a Circle, Gather Squares: A Fall Harvest of Shapes
by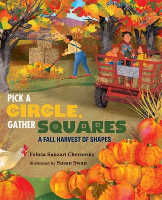 Fall is here, with all its wonderful visual delights, not just colors, but also shapes.
This clever concept book follows a family on a trip to a pumpkin patch and invites children to pick out shapes from the seasonal scenery: apple bushel circles, square hay bales, diamond kites in the autumn sky. Felicia Sanzari Chernesky's sweet verses are perfectly complemented by Susan Swan's gorgeous collage-inspired art.
Me And My Dragon: Scared of Halloween
by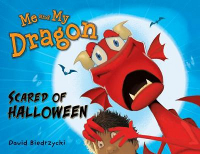 In this follow-up to Me and My Dragon, a boy runs into an unexpected problem when preparing to go trick-or-treating for Halloween: his pet dragon is scared silly of this spooky holiday!
Zombies, werewolves, mummies... they all make Dragon run and hide. How will the boy convince Dragon that these things aren't real? What costume will the duo come up with for this unconventional pet?
Click, Clack, Boo!: A Tricky Treat
by
Farmer Brown does not like Halloween. He draws the shades, puts on his footy pajamas, and climbs into bed.
Do you think the barnyard animals have any respect for a man in footy pajamas? No, they do not. For them, the Halloween party has just begun. And we all know these critters far prefer tricks over treats.
There are big surprises in store for Farmer Brown!
Mitchell liked to knock things down. That's just how he rolled.
One Saturday, when Mitchell almost knocks down his dad, his dad catches him and puts him in the car. When they step into the bowling alley, Mitchell feels right at home. Pizza! Giant crashing noises! Special shoes!
As Mitchell picks up the biggest ball and quickly learns the word gutter, Dad does a little kick with his leg and earns a big X on the scoreboard, and Mitchell starts to get peevish. How can Mitchell get a chance to do a steamin'-hot-potato-dance too?
Battle on! Head to the lanes for another hilarious, high-energy story as four-year-old Mitchell and his obliging dad strike a winning deal.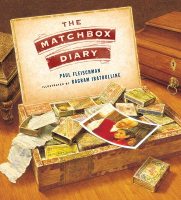 When a little girl visits her great-grandfather at his curio-filled home, she chooses an unusual object to learn about: an old cigar box.
What she finds inside surprises her: a collection of matchboxes making up her great grandfather's diary, harboring objects she can hold in her hand, each one evoking a memory. Inspired by each matchbox she opens, the great-grandfather tells of his journey from Italy to the United States, before he could read and write.
---
Older Picture Books:
2013
The Day the Crayons Quit, by (September 2nd)
What Can a Crane Pick Up?, by (August 12th)
Cute and Cuter, by (July 26th)
Little Owl's Orange Scarf, by (July 16th)
A Big Guy Took My Ball!, by (June 24th)
Because I'm Your Dad, by (June 17th)
Otis and the Puppy, by (May 20th)
Take Me Out to the Yakyu, by (May 13th)
The Ant and the Grasshopper, by (May 6th)
Chloe, by (April 29th)
Red Hat, by (April 22nd)
The Three Ninja Pigs, by (April 16th)
This Moose Belongs to Me, by (April 2nd)
Those Darn Squirrels and the Cat Next Door, by (February 25th)