Newest Picture Book: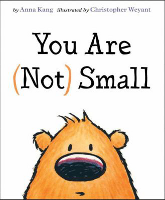 Two fuzzy creatures can't agree on who is small and who is big, until a couple of surprise guests show up, settling it once and for all.
The simple text of Anna Kang and bold illustrations of The New Yorker cartoonist Christopher Weyant tell an original and very funny story about size: it all depends on who's standing next to you.
---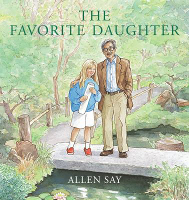 Yuriko hates her name when the children make fun of it and call her Eureka! The teasing makes her want to hide, to retreat even from the art projects she used to love.
Fortunately she has a patient, kind father who finds gentle ways of drawing her out and reminding Yuriko of the traditions they share that have always brought her joy: walks in lovely Golden Gate Park, lunch at their favorite sushi restaurant, watching the fog blow in off the bay. It's enough, more than enough to face down her challenges with confidence.
From the incomparable Allen Say comes another moving story taken from his personal experience and translated to the universal. This tale, dedicated with love to Say's daughter, is one for all parents who want their children to feel pride in their heritage, and to know their own greatest sources of strength and inspiration.
Princess Sparkle-Heart Gets a Makeover
by
Amelia and her dog are best friends, until Princess Sparkle-Heart comes along.
Soon, Amelia and Princess Sparkle-Heart are doing everything together: having tea parties, attending royal weddings, keeping each other's secrets. Princess Sparkle-Heart may be an awesome princess doll, but is she any match for a jealous canine?
Look out, Princess Sparkle-Heart!
This witty parable of sibling rivalry has all the giggle-inducing visual detail and kid-appeal of the author's previous work, plus an unexpected twist that makes for a satisfyingly delicious ending.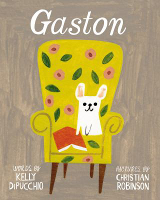 This is the story of four puppies: Fi-Fi, Foo-Foo, Ooh-La-La, and Gaston.
Gaston works the hardest at his lessons on how to be a proper pooch. He sips, never slobbers! He yips, never yaps! He walks with grace, never races! Gaston fits right in with his poodle sisters.
But a chance encounter with a bulldog family in the park (Rocky, Ricky, Bruno, and Antoinette) reveals there's been a mix-up, and so Gaston and Antoinette switch places. The new families look right, but they don't feel right. Can these puppies follow their noses and their hearts to find where they belong?
My New Friend Is So Fun
by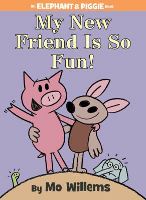 Gerald is careful. Piggie is not. Piggie cannot help smiling. Gerald can. Gerald worries so that Piggie does not have to. Gerald and Piggie are best friends.
In My New Friend Is So Fun!, Piggie has found a new friend. Is Gerald ready to share?
All Different Now : Juneteenth, the First Day of Freedom
by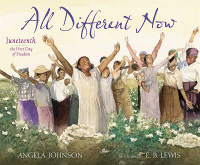 Through the eyes of one little girl, All Different Now tells the story of the first Juneteenth, the day freedom finally came to the last of the slaves in the South.
Since then, the observance of June 19th as African American Emancipation Day has spread across the United States and beyond. This stunning picture book includes notes from the author and illustrator, a timeline of important dates, and a glossary of relevant terms.
Told in Angela Johnson's signature melodic style and brought to life by E.B. Lewis's striking paintings, All Different Now is a joyous portrait of the dawn breaking on the darkest time in our nation's history.
Experience the joy of Juneteenth in this celebration of freedom from the award-winning team of Angela Johnson and E.B. Lewis.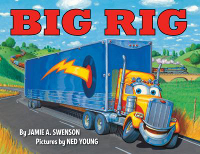 Come along for the ride as Frankie the big rig truck takes us on the job, driving past kiddie cars (school buses) and land yachts (RVs). Hear the horn blow and the wipers schwat the windshield clean.
But, BANG! SHHUUU! Uh-oh: a blow-out! Don't worry, a service truck saves the day, so we can get the job done and make a very special delivery.
Every kid will love to learn the truck driver lingo in the story, and shout out their own sound effects as they return for another ride, read after read. Author Jamie Swenson takes readers from zero to sixty with her fast-talking truck and Ned Young's bright and engaging illustrations.
The Pigeon Needs a Bath
by
The Pigeon really needs a bath.
Except, the Pigeon's not so sure about that. Besides, he took a bath last month. Maybe. It's going to take some serious convincing to try and get the Pigeon to take the plunge.
Betty Bunny Wants a Goal
by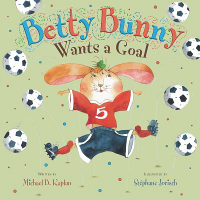 Soccer is the first sport most kids play, and Betty Bunny is taking the field. She proudly announces that she will score ten goals in her first game.
Like most preschoolers, Betty Bunny's ideas are not exactly in line with reality. When she fails to score a single goal, she decides that soccer is yucky and stuffs her uniform in the trash. Now it's up to her family to help Betty Bunny see the value of not giving up when things get hard.
In a story about hard work and achieving your goals, Betty Bunny learns that with practice, she can do anything. But in Betty Bunny's world, this lesson has surprising results.
---
Older Picture Books:
2014
Don't Push the Button, by (March 31st)
Lost Cat, by (March 25th)
Herman and Rosie, by (March 10th)
Gazpacho for Nacho, by (March 4th)
Buddy and the Bunnies in Don't Play with Your Food, by (February 24th)
Niņo Wrestles the World, by (February 17th)
Wild Berries, by (February 3rd)
The Blessing Cup, by (January 20th)
2013
Daisy Gets Lost, by (December 26th)
Dear Santasaurus, by (December 16th)
Bogart and Vinnie : A Completely Made-Up Story of True Friendship, by (December 9th)
Tap the Magic Tree, by (December 2nd)
Hello, My Name Is Ruby, by (November 25th)
Fraidyzoo , by (November 11th)
Dinosaur Kisses, by (October 28th)
Pick a Circle, Gather Squares: A Fall Harvest of Shapes, by (October 21st)
Me And My Dragon: Scared of Halloween, by (October 15th)
Click, Clack, Boo!: A Tricky Treat, by (October 7th)
Mitchell Goes Bowling, by (September 27th)
The Matchbox Diary, by (September 16th)
The Day the Crayons Quit, by (September 2nd)
What Can a Crane Pick Up?, by (August 12th)
Cute and Cuter, by (July 26th)
Little Owl's Orange Scarf, by (July 16th)
A Big Guy Took My Ball!, by (June 24th)
Because I'm Your Dad, by (June 17th)
Otis and the Puppy, by (May 20th)
Take Me Out to the Yakyu, by (May 13th)
The Ant and the Grasshopper, by (May 6th)
Chloe, by (April 29th)
Red Hat, by (April 22nd)
The Three Ninja Pigs, by (April 16th)
This Moose Belongs to Me, by (April 2nd)
Those Darn Squirrels and the Cat Next Door, by (February 25th)