Newest Picture Book: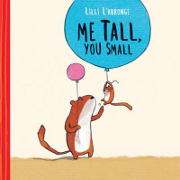 Me Tall, You Small is a series of playful vignettes in the daily life of a pair of weasels, parent and child.
Whether they are having a bubble bath, kicking a soccer ball, or eating ice cream together, simple paired phrases showcase their loving and amusingly realistic relationship. After a fall: You boo-boo. Me bandage. At bedtime: Me tired. You wired.
---
---
Older Picture Books:
2016
Shark Detective, by (February 9th)
2015
The Princess and the Pony , by (July 27th)
Ballet Cat : The Totally Secret Secret , by (June 30th)
Gwendolyn Grace, by (June 22nd)
My Pen, by (May 20th)
Marilyn's Monster, by (April 27th)
Quest, by (March 2nd)
Waiting Is Not Easy, by (January 19th)
2014
The Farmer and the Clown, by (December 29th)
Horton and the Kwuggerbug and More Lost Stories , by (October 6th)
I'm My Own Dog, by (September 16th)
You Are (Not) Small, by (August 18th)
The Favorite Daughter, by (August 12th)
Princess Sparkle-Heart Gets a Makeover, by (August 7th)
Gaston, by (July 28th)
My New Friend Is So Fun, by (July 7th)
All Different Now : Juneteenth, the First Day of Freedom, by (June 25th)
Big Rig, by (May 27th)
The Pigeon Needs a Bath, by (May 19th)
Betty Bunny Wants a Goal, by (May 12th)
Don't Push the Button, by (March 31st)
Lost Cat, by (March 25th)
Herman and Rosie, by (March 10th)
Gazpacho for Nacho, by (March 4th)
Buddy and the Bunnies in Don't Play with Your Food, by (February 24th)
Niņo Wrestles the World, by (February 17th)
Wild Berries, by (February 3rd)
The Blessing Cup, by (January 20th)
Daisy Gets Lost, by (December 26th)
Dear Santasaurus, by (December 16th)
Bogart and Vinnie : A Completely Made-Up Story of True Friendship, by (December 9th)
Tap the Magic Tree, by (December 2nd)
Hello, My Name Is Ruby, by (November 25th)
Fraidyzoo , by (November 11th)
Dinosaur Kisses, by (October 28th)
Pick a Circle, Gather Squares: A Fall Harvest of Shapes, by (October 21st)
Me And My Dragon: Scared of Halloween, by (October 15th)
Click, Clack, Boo!: A Tricky Treat, by (October 7th)
Mitchell Goes Bowling, by (September 27th)
The Matchbox Diary, by (September 16th)
The Day the Crayons Quit, by (September 2nd)
What Can a Crane Pick Up?, by (August 12th)
Cute and Cuter, by (July 26th)
Little Owl's Orange Scarf, by (July 16th)
A Big Guy Took My Ball!, by (June 24th)
Because I'm Your Dad, by (June 17th)
Otis and the Puppy, by (May 20th)
Take Me Out to the Yakyu, by (May 13th)
The Ant and the Grasshopper, by (May 6th)
Chloe, by (April 29th)
Red Hat, by (April 22nd)
The Three Ninja Pigs, by (April 16th)
This Moose Belongs to Me, by (April 2nd)
Those Darn Squirrels and the Cat Next Door, by (February 25th)