Newest Movie: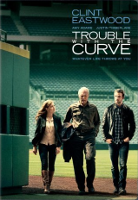 Trouble with the Curve by Clint Eastwood, Amy Adams, Justin Timberlake
Gus Lobel has been one of the best scouts in baseball for decades, but, despite his efforts to hide it, age is starting to catch up with him. Nevertheless, Gus refuses to be benched for what may be the final innings of his career. He may not have a choice.
The front office is starting to question Gus' judgment, especially with the country's hottest batting phenomenon on deck for the draft. The one person who might be able to help is also the one person Gus would never ask: his daughter, Mickey, an associate at a high-powered Atlanta law firm whose drive and ambition has put her on the fast track to becoming partner. Against her better judgment, and over Gus's objections, Mickey joins him on his latest scouting trip to North Carolina, jeopardizing her own career to save his.
Available in DVD.
Discuss this item on our forum.
---
---
Older Movies: