Newest Movie:
A charmingly modern family tries to survive a weekend wedding celebration that has the potential to become a full-blown family fiasco.
To the amusement of their adult children and friends, long-divorced couple Don and Ellie Griffin are once again forced to play the happy couple for the sake of their adopted son's wedding after his ultraconservative biological mother unexpectedly decides to fly halfway across the world to attend.
---
All Creatures Great and Small: The Complete Series, Collection 1
by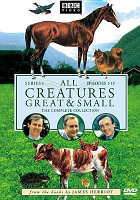 Filmed on location in the Yorkshire Dales, All Creatures Great and Small brings the world of veterinarian James Herriot to life with all the warmth and humor of the original stories.
---
Older Movies:
2013
The Bible: the Epic Miniseries, by (August 12th)
Trouble with the Curve, by (February 25th)
2012
White Christmas, by (November 26th)
Albert Nobbs, by (October 15th)
The Vow, by (July 2nd)
The Shunning, by (April 16th)
Beauty and the Beast: the Complete Series, by (February 20th)
Angus, by (February 13th)
Mao's Last Dancer, by (January 16th)
Love Story (DVD), by (October 10th)
Get Low: a True Tall Tale, by (September 26th)
Arsenic and Old Lace, by (September 6th)
Appalachia: a History of Mountains and People (July 18th)
Temple Grandin, by (July 11th)
Tron: the Original Classic, by (July 5th)
Secretariat, by (April 25th)
Georgia O'Keeffe, by (March 14th)
Two and a Half Men: The Complete First Season, by (January 24th)
Christmas in Canaan, by (December 13th)
Heroes, Season 1, by (October 4th)
Alice in Wonderland, by (July 9th)
Rio Bravo, by (May 31st)
Old Dogs, by (May 24th)
District 9, by (May 17th)
Hurt Locker, by (May 10th)
2012, by (May 3rd)
The Twilight Saga New Moon, by (April 26th)
Funny People, by (April 5th)
The Cannonball Run, by (March 29th)
Boston Legal: Season One, by (February 8th)
Fort Apache, by (November 23rd)
Easy Virtue, by (November 9th)
Duplicity, by (November 2nd)
Observe and Report, by (October 26th)
E.R.: The Complete 10th Season, by (September 8th)
Paul Blart, Mall Cop, by (August 31st)
Gran Torino, by (August 24th)
Defiance, by (August 17th)
The Boy in the Striped Pajamas, by (June 15th)
Love Takes Wing, by (June 8th)
The Fighting Seabees (June 1st)
Easy Come, Easy Go (May 26th)
Twilight, by (May 18th)
Slumdog Millionaire (May 18th)
Marley and Me (May 11th)
The Librarian: Curse of the Judas Chalice (May 4th)
Milk (April 20th)
The Changeling (April 13th)
The Secret Life of Bees (April 6th)
Swing Vote (March 30th)
Swing State Ohio: Journey to the Heartland of a Divided Nation (March 23rd)
The Express (March 16th)
Tin Man (February 16th)
The Mystery Science Theater 3000 Collection 1 (February 9th)
Tropic Thunder (February 2nd)
The Day the Earth Stood Still (January 19th)
Get Smart Season 1 (January 12th)