Newest Movie:
When Tony Lip, a bouncer from an Italian-American neighborhood in the Bronx, is hired to drive Dr. Don Shirley, a world-class Black pianist, on a concert tour from Manhattan to the Deep South, they must rely on The Green Book to guide them to the few establishments that were then safe for African-Americans.
Confronted with racism and danger as well as unexpected humanity and humor, they are forced to set aside differences to survive and thrive on the journey of a lifetime.
---
Earl Stone is elderly, broke, alone, and facing foreclosure of his business.
When he is offered a job that simply requires him to drive, that seems easy enough; but unbeknownst to Earl, he has just signed on as a drug courier for a Mexican cartel.
God Bless the Broken Road
by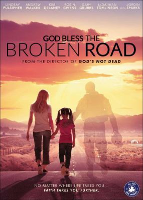 God Bless the Broken Road tells the story of a young mother who loses her husband in Afghanistan and struggles to raise their young daughter in his absence. The film combines elements of faith, country music, and stock car racing while paying tribute to those who serve in the United States military.
---
Older Movies:
2019
The Spy Who Dumped Me, by (January 14th)
2018
Overboard, by (October 22nd)
Lean on Pete, by (October 1st)
Snatched, by (September 4th)
2017
Complete Unknown, by (March 27th)
2016
The Finest Hours, by (October 27th)
Eddie the Eagle, by (August 22nd)
The Hateful Eight, by (July 11th)
The Revenant, by (June 1st)
The 33, by (April 18th)
War Pigs, by (March 28th)
Unbroken, by (August 31st)
Exodus Gods and Kings, by (July 13th)
Dolphin Tale 2, by (May 20th)
Neighbors, by (January 19th)
God's Not Dead, by (November 12th)
3 Days to Kill, by (August 7th)
Hours, by (July 7th)
Ender's Game, by (May 12th)
The JFK Collection (March 4th)
The Way Way Back, by (February 10th)
The Complete Thin Man Collection, by (December 2nd)
The Big Wedding, by (November 4th)
All Creatures Great and Small: The Complete Series, Collection 1, by (September 2nd)
The Bible: the Epic Miniseries, by (August 12th)
Trouble with the Curve, by (February 25th)
White Christmas, by (November 26th)
Albert Nobbs, by (October 15th)
The Vow, by (July 2nd)
The Shunning, by (April 16th)
Beauty and the Beast: the Complete Series, by (February 20th)
Angus, by (February 13th)
Mao's Last Dancer, by (January 16th)
Love Story (DVD), by (October 10th)
Get Low: a True Tall Tale, by (September 26th)
Arsenic and Old Lace, by (September 6th)
Appalachia: a History of Mountains and People (July 18th)
Temple Grandin, by (July 11th)
Tron: the Original Classic, by (July 5th)
Secretariat, by (April 25th)
Georgia O'Keeffe, by (March 14th)
Two and a Half Men: The Complete First Season, by (January 24th)
Christmas in Canaan, by (December 13th)
Heroes, Season 1, by (October 4th)
Alice in Wonderland, by (July 9th)
Rio Bravo, by (May 31st)
Old Dogs, by (May 24th)
District 9, by (May 17th)
Hurt Locker, by (May 10th)
2012, by (May 3rd)
The Twilight Saga New Moon, by (April 26th)
Funny People, by (April 5th)
The Cannonball Run, by (March 29th)
Boston Legal: Season One, by (February 8th)
Fort Apache, by (November 23rd)
Easy Virtue, by (November 9th)
Duplicity, by (November 2nd)
Observe and Report, by (October 26th)
E.R.: The Complete 10th Season, by (September 8th)
Paul Blart, Mall Cop, by (August 31st)
Gran Torino, by (August 24th)
Defiance, by (August 17th)
The Boy in the Striped Pajamas, by (June 15th)
Love Takes Wing, by (June 8th)
The Fighting Seabees (June 1st)
Easy Come, Easy Go (May 26th)
Twilight, by (May 18th)
Slumdog Millionaire (May 18th)
Marley and Me (May 11th)
The Librarian: Curse of the Judas Chalice (May 4th)
Milk (April 20th)
The Changeling (April 13th)
The Secret Life of Bees (April 6th)
Swing Vote (March 30th)
Swing State Ohio: Journey to the Heartland of a Divided Nation (March 23rd)
The Express (March 16th)
Tin Man (February 16th)
The Mystery Science Theater 3000 Collection 1 (February 9th)
Tropic Thunder (February 2nd)
The Day the Earth Stood Still (January 19th)
Get Smart Season 1 (January 12th)