Newest Young Adult Book: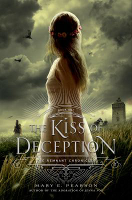 In a society steeped in tradition, Princess Lia's life follows a preordained course.
As First Daughter, she is expected to have the revered gift of sight (but she doesn't), and she knows her parents are perpetrating a sham when they arrange her marriage to secure an alliance with a neighboring kingdom, to a prince she has never met.
On the morning of her wedding, Lia flees to a distant village. She settles into a new life, hopeful when two mysterious and handsome strangers arrive, unaware that one is the jilted prince and the other an assassin sent to kill her. Deception abounds, and Lia finds herself on the brink of unlocking perilous secrets, even as she finds herself falling in love.
---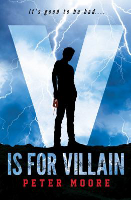 Brad Baron is used to looking lame compared to his older brother, Blake.
Though Brad's basically a genius, Blake is a superhero in the elite Justice Force. Brad doesn't measure up at his high school, either, where powers like super-strength and flying are the norm. So when Brad makes friends who are more into political action than weight lifting, he's happy to join a new crew, especially since it means spending more time with Layla, a girl who may or may not have a totally illegal, totally secret super-power.
With her help, Brad begins to hone a dangerous new power of his own. When they're pulled into a web of nefarious criminals, high-stakes battles, and startling family secrets, Brad must choose which side he's on. Once he does, there's no turning back.
Perfect for fans of The Avengers, Ironman, and classic comic books, V is for Villain reveals that it's good to be bad.
From the world of Beautiful Creatures comes a dangerous new tale of love and magic.
Ridley Duchannes is nobody's heroine. She's a Dark Caster, a Siren. She can make you do things. Anything. You can't trust her, or yourself when she's around; and she'll be the first to tell you to stay away, especially if you're going to do something as stupid as fall in love with her.
Lucky for Ridley, her wannabe rocker boyfriend, Wesley Link Lincoln, never listens to anyone. Link doesn't care if Rid's no good for him, and he takes her along when he leaves small-town Gatlin to follow his rock-star dream. He teams up with a ragtag group of Dark Casters, and when the band scores a gig at a hot Underground club, it looks like all of Link's dreams are about to come true.
New York City is a dangerous place for both Casters and Mortals, and soon Ridley realizes that Link's bandmates are keeping secrets. With bad-boy club owner Lennox Gates on her heels, Rid is determined to find out the truth. What she discovers is worse than she could have imagined: Link has a price on his head that no Caster or Mortal can ever pay. With their lives on the line, what's a Siren to do?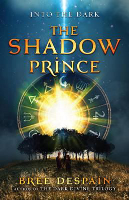 Haden Lord, the disgraced prince of the Underrealm, has been sent to the mortal world to entice a girl into returning with him to the land of the dead.
Posing as a student at Olympus Hills High (a haven for children of the rich and famous), Haden must single out the one girl rumored to be able to restore immortality to his race.
Daphne Raines has dreams much bigger than her tiny southern Utah town, so when her rock star dad suddenly reappears, offering her full tuition to Olympus Hills High's prestigious music program, she sees an opportunity to catch the break she needs to make it as a singer. But upon moving into her estranged father's mansion in California, and attending her glamorous new school, Daphne soon realizes she isn't the only student in Olympus who doesn't quite belong.
The final exam is survival.
Paul is the new kid at Mortingham Boarding Academy, and he has a dark secret. Caitlyn admires Paul from afar and resents that he only has eyes for Erika. Erika thinks that she and Caitlyn are best friends, but she's wrong. Adam is a bully with a major chip on his shoulder. Mark is outgrowing his old friends but doesn't know how to make new ones.
In a few short hours, none of this will matter. Without warning, a horrifying infection will spread across the school grounds, and a group of students with little in common will find themselves barricaded in a classroom, fighting for their lives. Some will live. Some will die. And then it will get even worse.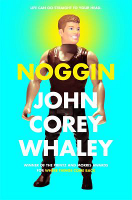 Listen — Travis Coates was alive once, and then he wasn't.
Now he's alive again. Simple as that.
The in-between part is still a little fuzzy, but he can tell you that, at some point or another, his head got chopped off and shoved into a freezer in Denver, Colorado. Five years later, it was reattached to some other guy's body, and well, here he is.
Despite all logic, he's still 16, and everything and everyone around him has changed. That includes his bedroom, his parents, his best friend, and his girlfriend. Maybe she's not his girlfriend anymore? That's a bit fuzzy too.
It looks like if the new Travis and the old Travis are ever going to find a way to exist together, then there are going to be a few more scars.
Oh well, you only live twice.
Prince of Shadows: A Novel of Romeo and Juliet
by
In the Houses of Montague and Capulet, there is only one goal: power.
The boys are born to fight and die for honor and, if they survive, to marry for influence and money, not love. The girls are assets, to be spent wisely. Their wishes are of no import. Their fates are written on the day they are born.
Benvolio Montague, cousin to Romeo, knows all this. He expects to die for his cousin, for his house, but a spark of rebellion still lives inside him. At night, he is the Prince of Shadows, the greatest thief in Verona, and he risks all as he steals from House Capulet. In doing so, he sets eyes on convent-bound Rosaline, and a terrible curse begins that will claim the lives of many in Verona...
His story will rewrite all their fates, forever.
---
Older Young Adult Fiction:
2014
Grandmaster, by (March 31st)
The Worlds We Make, by (March 24th)
Maggot Moon, by (March 10th)
Altered, by (March 4th)
Written in Stone, by (February 24th)
Cress, by (February 17th)
Unnatural Creatures, by (February 10th)
The Fallout, by (February 3rd)
Undead, by (January 20th)
Find Me, by (December 26th)
More Than This, by (December 16th)
VIII, by (December 9th)
Don't Look Now, by (December 2nd)
The Shade of the Moon, by (November 25th)
Boy Nobody, by (November 11th)
Thousand Words, by (October 28th)
The Fury, by (October 21st)
Antigoddess, by (October 15th)
The Coldest Girl in Coldtown, by (October 7th)
The Fall of Five, by (September 27th)
Love in the Time of Global Warming, by (September 16th)
The 5th Wave, by (September 2nd)
Crewel, by (August 12th)
Partials, by (July 26th)
The Summer Prince, by (July 16th)
Black Helicopters, by (June 24th)
Period 8, by (June 17th)
Fitz, by (May 28th)
Light, by (May 20th)
Dodger, by (May 13th)
Spellcaster, by (April 29th)
Pivot Point, by (April 22nd)
OCD, The Dude, and Me, by (April 15th)
Unspoken, by (April 8th)
Peanut, by (April 2nd)
Ten, by (March 9th)
Keeping the Castle, by (February 25th)
Starters, by (February 18th)
The Short Second Life of Bree Tanner: An Eclipse Novella, by (August 9th)
Dull Boy, by (December 29th)
Along for the Ride, by (August 24th)
The Forest of Hands and Teeth, by (June 29th)
Frannie in Pieces, by (June 22nd)
The Boy in the Striped Pajamas, by (June 15th)
Twilight, by (May 18th)
Eon: Dragoneye Reborn, by (April 27th)
Graceling, by (March 2nd)
Deadville, by (February 23rd)