Newest Young Adult Book:
The perennial new kid in school, the one few notice and nobody thinks much about, Boy Nobody shows up in a new high school, in a new town, under a new name, makes few friends, and doesn't stay long. He stays just long enough for someone in his new friend's family to die, of natural causes. Mission accomplished, Boy Nobody disappears and moves on to the next target.
When he's assigned to the mayor of New York City, things change. The daughter seems so much like him; the mayor reminds him of his father. And when memories and questions surface, his handlers at The Program are watching.
Somewhere, deep inside Boy Nobody, is somebody: the kid he once was, the teen who wants normal things, like a real home and parents; a young man who wants out. He just might want those things badly enough to sabotage The Program's next mission.
---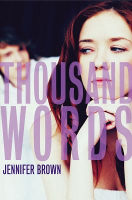 Ashleigh's boyfriend, Kaleb, is about to leave for college, and Ashleigh is worried that he'll forget about her while he's away. So at a legendary end-of-summer pool party, Ashleigh's friends suggest she text him a picture of herself -- sans swimsuit -- to take with him. Before she can talk herself out of it, Ashleigh strides off to the bathroom, snaps a photo in the full-length mirror, and hits send.
When Kaleb and Ashleigh go through a bad breakup, Kaleb takes revenge by forwarding the text to his baseball team. Soon the photo has gone viral, attracting the attention of the school board, the local police, and the media.
As her friends and family try to distance themselves from the scandal, Ashleigh feels completely alone -- until she meets Mack while serving her court-ordered community service. Not only does Mack offer a fresh chance at friendship, but he's the one person in town who received the text of Ashleigh's photo -- and didn't look.
Acclaimed author Jennifer Brown brings readers a gripping novel about honesty and betrayal, redemption and friendship, attraction and integrity, as Ashleigh finds that while a picture may be worth a thousand words, it doesn't always tell the whole story.
From the creator of the Escape from Furnace series, a ferocious epic of supernatural terror, perfect for Stephen King fans.
Imagine if one day, without warning, the entire human race turns against you; if every person you know, every person you meet becomes a bloodthirsty, mindless savage. That's the horrifying reality for Cal, Brick, and Daisy. Friends, family, even moms and dads are out to get them. Their world has the Fury. It will not rest until they are dead.
In Alexander Gordon Smith's adrenaline-fueled saga, Cal and the others must uncover the truth about what is happening before it destroys them all. Survival comes at a cost: in their search for answers, what they discover will launch them into battle with an enemy of unimaginable power.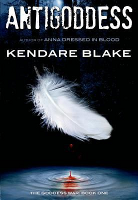 Old Gods never die...
Or so Athena thought. But then the feathers started sprouting beneath her skin, invading her lungs like a strange cancer, and Hermes showed up with a fever eating away his flesh. So much for living a quiet eternity in perpetual health.
Desperately seeking the cause of their slow, miserable deaths, Athena and Hermes travel the world, gathering allies and discovering enemies both new and old. Their search leads them to Cassandra, an ordinary girl who was once an extraordinary prophetess, protected and loved by a god.
These days, Cassandra doesn't involve herself in the business of gods. In fact, she doesn't even know they exist. Yet she could be the key in a war that is only just beginning.
Hera, the queen of the gods, has aligned herself with other of the ancient Olympians, who are killing off rivals in an attempt to prolong their own lives. But these anti-gods have become corrupted in their desperation to survive, horrific caricatures of their former glory. Athena will need every advantage she can get, because immortals don't just flicker out.
Every one of them dies in their own way. Some choke on feathers. Others become monsters. All of them rage against their last breath.
The Goddess War is about to begin.
The Coldest Girl in Coldtown
by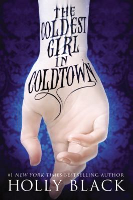 Tana lives in a world where walled cities called Coldtowns exist. In them, quarantined monsters and humans mingle in a decadently bloody mix of predator and prey. The only problem is, once you pass through Coldtown's gates, you can never leave.
One morning, after a perfectly ordinary party, Tana wakes up surrounded by corpses. The only other survivors of this massacre are her exasperatingly endearing ex-boyfriend, infected and on the edge, and a mysterious boy burdened with a terrible secret. Shaken and determined, Tana enters a race against the clock to save the three of them the only way she knows how: by going straight to the wicked, opulent heart of Coldtown itself.
The Coldest Girl in Coldtown is a wholly original story of rage and revenge, of guilt and horror, and of love and loathing from bestselling and acclaimed author Holly Black.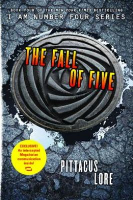 The Garde are finally reunited, but do they have what it takes to win the war against the Mogadorians? John Smith (Number Four) thought that things would change once the Garde found one another. They would stop running. They would fight the Mogadorians. They would win.
He was wrong. After facing off with the Mogadorian ruler and almost being annihilated, the Garde know they are drastically unprepared and hopelessly outgunned. Now they're hiding out in Nine's Chicago penthouse, trying to figure out their next move.
The six of them are powerful, but they're not strong enough yet to take on an entire army, even with the return of an old ally. They must master their Legacies, learn to work together as a team, and discover the truth about the Elders and their plan for the Loric survivors.
When the Garde receive a sign from Number Five, they know they are close to being reunited. Could it be a trap? Time is running out, and the only thing they know for certain is that they have to get to Five before it's too late.
Love in the Time of Global Warming
by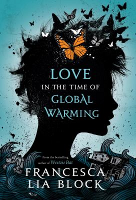 Seventeen-year-old Penelope (Pen) has lost everything: her home, her parents, and her ten-year-old brother. Like a female Odysseus in search of home, she navigates a dark world full of strange creatures, gathers companions and loses them, finds love and loses it, and faces her mortal enemy.
In her signature style, Francesca Lia Block has created a world that is beautiful in its destruction and as frightening in its loveliness. At the helm of Love in the Time of Global Warming is Pen, a strong heroine who holds hope and love in her hands and refuses to be defeated.
After the 1st wave, only darkness remains. After the 2nd, only the lucky escape. After the 3rd, only the unlucky survive. After the 4th wave, only one rule applies: trust no one.
Now, it's the dawn of the 5th wave, and on a lonely stretch of highway, Cassie runs from Them, the beings who only look human, who roam the countryside killing anyone they see, who have scattered Earth's last survivors.
To stay alone is to stay alive, Cassie believes, until she meets Evan Walker. Beguiling and mysterious, Evan may be Cassie's only hope for rescuing her brother or even saving herself; but Cassie must choose between trust and despair, between defiance and surrender, between life and death, to give up or to get up.
---
Older Young Adult Fiction:
2013
Crewel, by (August 12th)
Partials, by (July 26th)
The Summer Prince, by (July 16th)
Black Helicopters, by (June 24th)
Period 8, by (June 17th)
Fitz, by (May 28th)
Light, by (May 20th)
Dodger, by (May 13th)
Spellcaster, by (April 29th)
Pivot Point, by (April 22nd)
OCD, The Dude, and Me, by (April 15th)
Unspoken, by (April 8th)
Peanut, by (April 2nd)
Ten, by (March 9th)
Keeping the Castle, by (February 25th)
Starters, by (February 18th)
The Short Second Life of Bree Tanner: An Eclipse Novella, by (August 9th)
Dull Boy, by (December 29th)
Along for the Ride, by (August 24th)
The Forest of Hands and Teeth, by (June 29th)
Frannie in Pieces, by (June 22nd)
The Boy in the Striped Pajamas, by (June 15th)
Twilight, by (May 18th)
Eon: Dragoneye Reborn, by (April 27th)
Graceling, by (March 2nd)
Deadville, by (February 23rd)