Newest Young Adult Non-fiction Book:
The King of Sports : Football's Impact on America
by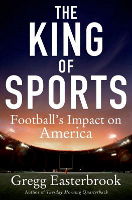 Gridiron football is the king of sports, the biggest game in the strongest and richest country in the world. Of the twenty most-watched television broadcasts ever, both in the United States and internationally, all twenty were Super Bowls.
In The King of Sports, Gregg Easterbrook, author of the wildly popular ESPN column Tuesday Morning Quarterback, takes on football's place in American society. Easterbrook tells the full story of how football became so deeply ingrained in American culture. Both good and bad, he examines its impact on American society at all levels of the game.
---
The Family Romanov : Murder, Rebellion, and the Fall of Imperial Russia
by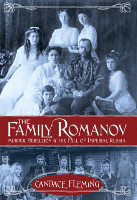 Here is the tumultuous, heartrending, true story of the Romanovs, at once an intimate portrait of Russia's last royal family and a gripping account of its undoing.
Using captivating photos and compelling first-person accounts, award-winning author Candace Fleming deftly maneuvers between the imperial family's extravagant lives and the plight of Russia's poor masses, making this an utterly mesmerizing read.
For the Good of Mankind?: The Shameful History of Human Medical Experimentation
by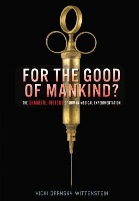 Experiment: A child is deliberately infected with the deadly smallpox disease without his parents' informed consent. Result: The world's first vaccine.
Experiment: A slave woman is forced to undergo more than thirty operations without anesthesia. Result: The beginnings of modern gynecology.
Incidents like these paved the way for crucial, lifesaving medical discoveries. But they also harmed and humiliated their test subjects, many of whom did not agree to the experiments in the first place. How do doctors balance the need to test new medicines and procedures with their ethical duty to protect the rights of human subjects? Take a harrowing journey through some of history's greatest medical advances and most horrifying medical atrocities to discover how human suffering has gone hand in hand with medical advancement.
A Volcano Beneath the Snow: John Brown's War Against Slavery
by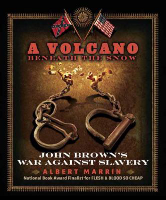 John Brown is a man of many legacies, from hero, freedom fighter, and martyr to liar, fanatic, and the father of American terrorism.
Some have said that it was his seizure of the arsenal at Harper's Ferry that rendered the Civil War inevitable. Brown believed that God had chosen him to right the moral wrong of slavery. He was willing to die for something modern Americans agree was a just cause. Yet he was willing to kill for it, too, in the name of righteous violence.
Award-winning nonfiction author Albert Marrin brings nineteenth-century issues into the modern arena with ease and grace in a book that is sure to rivet readers and spark serious discussion.
Shackleton: Antarctic Odyssey
by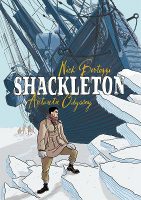 Ernest Shackleton was one of the last great Antarctic explorers, and he led one of the most ambitious Antarctic expeditions ever undertaken.
This is Shackleton's story and the story of the dozens of men who threw in their lot with him, many of whom nearly died in the unimaginably harsh conditions of the journey. It's an astonishing feat, and was unprecedented at the time, that all the men in the expedition survived.
Shackleton's expedition marked the end of a period of romantic exploration of the Arctic and the Antarctic, and this is as much a book about the encroaching modern world as it is about travel. Nick Bertozzi has documented this remarkable journey with such wit and fiendish attention to detail that it's impossible not to get caught up in the drama of the voyage. Shackleton is a phenomenal accompaniment to Bertozzi's earlier graphic novel about great explorers, Lewis & Clark.
Red Madness: How a Medical Mystery Changed What We Eat
by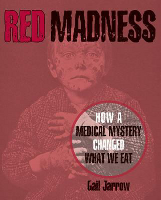 One hundred years ago, a mysterious and alarming illness spread across America's South, striking tens of thousands of victims.
No one knew what caused it or how to treat it. People were left weak, disfigured, insane, and in some cases, dead.
Award-winning science and history writer Gail Jarrow tracks this disease, commonly known as pellagra, and highlights how doctors, scientists, and public health officials finally defeated it. Illustrated with 100 archival photographs, Red Madness includes stories about real-life pellagra victims and accounts of scientific investigations.
Hidden like Anne Frank: Fourteen True Stories of Survival
by
Fourteen unforgettable true stories: all of these children were hidden away during World War II.
Jaap Sitters was only eight years old when his mother cut the yellow stars off his clothes and sent him, alone, on a fifteen-mile walk to hide with relatives. It was a terrifying night, one he would never forget. Before the end of the war, Jaap would hide in secret rooms and behind walls. He would suffer from hunger, sickness, and the looming threat of Nazi raids. But he would live.
Jaap's is just one of the incredible stories told in Hidden Like Anne Frank, a collection of eye-opening first-person accounts that share what it was like to go into hiding during World War II. Some children were only three or four years old when they were hidden; some were teenagers. Some hid with neighbors or family, while many were with complete strangers. All know the pain of losing their homes, their families, even their own names. They describe the secret network of brave people who kept them safe, and they share the coincidences and close escapes that made all the difference.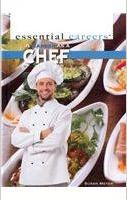 The opportunities for plying one's trade as a chef are many and various: small neighborhood restaurants or large chains, country clubs and cruise ships, corporate or school cafeterias, and catering and private homes.
For those who love cooking and the creative and healthful preparation of food, this is a rich and rewarding career, one that is always in demand. This book charts the various paths one can take to pursue a career in the culinary arts, while also highlighting the latest industry trends, including farm-to-table, locavore, and organic philosophies, practices, and techniques.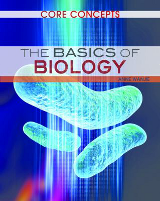 Life is the most basic and fundamental fact of our existence and yet remains one of the greatest and most impenetrable mysteries.
This enthralling survey of biology contains the riches of awe-inspiring discoveries and a rare and privileged glimpse into biologists' working methods. All of this is further complemented by stunning full-color photos, illustrations, diagrams, and primary source images, as well as intriguing sidebars that detail do-it-yourself experiments, test reading comprehension, relate failed theories of the past, spotlight current debates, disagreements, and discussions, and reveal the practical applications of the scientific research.
---
Older Young Adult Non-Fiction:
2014
Doctor Who Character Encyclopedia, by (March 31st)
Miss Peregrine's Home for Peculiar Children: The Graphic Novel, by (March 25th)
Mandela and Truth and Reconciliation, by (March 10th)
The Most Excellent and Lamentable Tragedy of Romeo and Juliet : A Play by William Shakespeare, by (February 3rd)
The Art of Drawing Dragons: Mythological Beasts and Fantasy Creatures, by (January 20th)
2013
The Ultimate Player's Guide to Minecraft, by (December 26th)
Stick it! : 99 D.I.Y. Duct Tape Projects, by (December 16th)
Boxers, by (December 2nd)
Bag of Marbles, by (November 25th)
Thrice Told Tales: Three Mice Full of Writing Advice, by (October 28th)
Super Graphic: A Visual Guide to the Comic Book Universe , by (October 21st)
Break These Rules: 5 YA Authors on Speaking Up, Standing Out, and Being Yourself, by (October 15th)
Hi-Tech Clothes, by (October 7th)
Templar, by (September 16th)
Dream Jobs in Sports Fitness and Medicine, by (September 2nd)
Jerusalem: A Family Portrait, by (August 12th)
Primates: The Fearless Science of Jane Goodall, Dian Fossey, and Birut Galdikas, by (July 26th)
A Teen Guide to Eco-Fashion, by (July 16th)
Drawing Manga Faces and Bodies, by (June 24th)
Relish: My Life in the Kitchen, by (June 17th)
Drama, by (May 6th)
The Bird King: An Artist's Notebook, by (April 29th)
Master of Deceit : J. Edgar Hoover and America in the Age of Lies, by (April 8th)
The Many Faces of George Washington: Remaking a Presidential Icon, by (April 2nd)
Temple Grandin : How the Girl Who Loved Cows Embraced Autism and Changed the World, by (March 9th)
The Good, the Bad, and the Barbie: A Doll's History and Her Impact on Us , by (February 25th)
Bomb : The Race to Build - and Steal - the World's Most Dangerous Weapon, by (February 18th)