Newest Young Adult Non-fiction Book:
Doctor Who Character Encyclopedia
by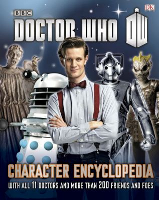 Meet all the most important characters from the entire history of Doctor Who, including every Doctor and companion.
Packed with fascinating facts and statistics for characters from the Abzorbaloff to the Zygons, and with large cut-out poses and stunning stills from the program, this is the ultimate compendium of Doctor Who characters.
---
Miss Peregrine's Home for Peculiar Children: The Graphic Novel
by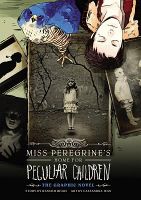 A horrific family tragedy sets sixteen-year-old Jacob on a journey to a remote island off the coast of Wales, where he discovers the crumbling ruins of Miss Peregrine's Home for Peculiar Children.
As Jacob explores its abandoned bedrooms and hallways, it becomes clear that the children were more than just peculiar. They may have been dangerous. They may have been quarantined on a deserted island for good reason. Somehow, impossible though it seems, they may still be alive.
Mandela and Truth and Reconciliation
by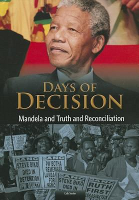 How did Nelson Mandela help to heal a divided nation by supporting South Africa's Truth and Reconciliation Commission?
What choices did he have, what support and advice did he receive, and how did his decisions affect history and his legacy? This book looks at a momentous event from recent times showing how one of the world's most charismatic leaders chose to follow a courageous and groundbreaking course of action.
The Most Excellent and Lamentable Tragedy of Romeo and Juliet : A Play by William Shakespeare
by
She's a Capulet. He's a Montague.
When Romeo and Juliet first meet, they don't know they're from rival families, and when they find out, they don't care. Their love is honest and raw and all-consuming.
It's also dangerous. How much will they have to sacrifice before they can be together?
In a masterful adaptation faithful to Shakespeare's original text, Gareth Hinds transports readers to the sun-washed streets and market squares of Shakespeare's Verona, vividly bringing the classic play to life on the printed page.
The Art of Drawing Dragons: Mythological Beasts and Fantasy Creatures
by
The ever-increasing popularity of mythological and fantasy creatures in film, graphic novels, and television creates high demand for instruction books on drawing these fantastic beasts.
In this newest addition to our Collector's series, aspiring artists will find 144 pages of clear, step-by-step instructions for drawing everything from fire-breathing dragons to seven-headed monsters and magical fairies. Information on the origin and history of mythological creatures gives this book an extra-special appeal. The author's helpful tips on shading and drawing techniques show readers everything they need to know to create their own impressive beasts.
Although there are fantasy-themed drawing books on the market, this book is unique because it features a wide range of fantasy subjects rather than focusing on only one type of creature (such as dragons or fairies). It also sets itself apart from similar books with its helpful information on combining graphite pencil with other media, such as charcoal and black watercolor paint or ink. In addition, this extraordinary book features dragons and other mythological creatures from around the world, including those originating in Egyptian, Irish, Norse, and Greek mythology; whereas, most other fantasy books include generic, non-regional subjects.
The Ultimate Player's Guide to Minecraft
by
Minecraft is way more than a game: it's an alternate universe of creation, exhilaration, survival, adventure, and passion.
Don't enter that universe alone. Take an experienced guide who'll help you constantly, from living through your first night, to hosting your own Minecraft server. Stephen O'Brien has been obsessing over Minecraft since its earliest betas. He's seen it all.
Now, he'll take you deep inside craft and mine, cave and menagerie, farm and village. He'll reveal combat traps and tricks you need to know... take you deep inside hidden temples... teach you enchantments of unimaginable power... help you survive where few dare to go... help you OWN the infinite worlds of Minecraft.
Stick it! : 99 D.I.Y. Duct Tape Projects
by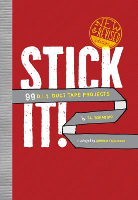 Duct Tape: is it a dream designer material or a simple adhesive used for binding purposes?
Thanks to Stick It!, duct tape will become a valuable commodity in your house now that it can be coaxed into wacked-out wallets, wild wearables, punked-out paper goods, and funky jewelry that will bedazzle any outfit fit for all occasions.
This invaluable guide, complete with folders and step-by-step directions, will lead you through 99 different craft projects so you'll become your own DT aficionado. Each project is leveled, from: Dude, my five-year-old sister could do that to Don't even think about operating heavy machinery.
Read, unroll, and express your rockin' self through creativity and, of course, duct tape.
---
Older Young Adult Non-Fiction:
2013
Boxers, by (December 2nd)
Bag of Marbles, by (November 25th)
Thrice Told Tales: Three Mice Full of Writing Advice, by (October 28th)
Super Graphic: A Visual Guide to the Comic Book Universe , by (October 21st)
Break These Rules: 5 YA Authors on Speaking Up, Standing Out, and Being Yourself, by (October 15th)
Hi-Tech Clothes, by (October 7th)
Templar, by (September 16th)
Dream Jobs in Sports Fitness and Medicine, by (September 2nd)
Jerusalem: A Family Portrait, by (August 12th)
Primates: The Fearless Science of Jane Goodall, Dian Fossey, and Birut Galdikas, by (July 26th)
A Teen Guide to Eco-Fashion, by (July 16th)
Drawing Manga Faces and Bodies, by (June 24th)
Relish: My Life in the Kitchen, by (June 17th)
Drama, by (May 6th)
The Bird King: An Artist's Notebook, by (April 29th)
Master of Deceit : J. Edgar Hoover and America in the Age of Lies, by (April 8th)
The Many Faces of George Washington: Remaking a Presidential Icon, by (April 2nd)
Temple Grandin : How the Girl Who Loved Cows Embraced Autism and Changed the World, by (March 9th)
The Good, the Bad, and the Barbie: A Doll's History and Her Impact on Us , by (February 25th)
Bomb : The Race to Build - and Steal - the World's Most Dangerous Weapon, by (February 18th)