Newest Young Adult Non-fiction Book:
Frida and Diego: Art, Love, Life
by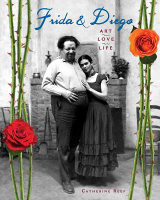 Nontraditional, controversial, rebellious, and politically volatile, the Mexican artists Frida Kahlo and Diego Rivera are remembered for their provocative paintings as well as for their deep love for each other.
Their marriage was one of the most tumultuous and infamous in history, filled with passion, pain, betrayal, revolution, and, above all, art that helped define the twentieth century.
---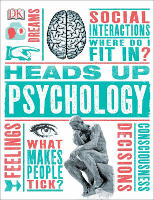 Psychology is all around us: in the advertising we see, the politics we debate, and in the development of products we use every day.
Using engaging graphics, Heads Up Psychology explores the big ideas from all areas of psychology including psychoanalysis, intelligence, and mental disorders.
With easy-to-understand coverage of all the approaches to psychology and the ideas of more than 60 psychologists, from Asch to Milgram and Ramachandran to Zimbardo, this introduction to an often complicated subject is written with young-adult readers in mind and is structured around the questions they often ask, like How do I fit in?, Who needs parents, anyway?, and Why do I feel so angry all the time?
In Heads Up Psychology, psychological theories are explained with the help of cleverly conceived graphic illustrations and diagrams to show how they relate to everyday life. Biography spreads give interesting insights into the lives and work of Freud, Pavlov, and more, while other psychologists and their big ideas are profiled in a comprehensive directory, and case study panels describe groundbreaking experiments in the field.
The King of Sports : Football's Impact on America
by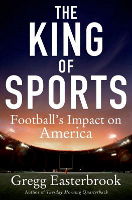 Gridiron football is the king of sports, the biggest game in the strongest and richest country in the world. Of the twenty most-watched television broadcasts ever, both in the United States and internationally, all twenty were Super Bowls.
In The King of Sports, Gregg Easterbrook, author of the wildly popular ESPN column Tuesday Morning Quarterback, takes on football's place in American society. Easterbrook tells the full story of how football became so deeply ingrained in American culture. Both good and bad, he examines its impact on American society at all levels of the game.
---
Older Young Adult Non-Fiction:
2014
The Family Romanov : Murder, Rebellion, and the Fall of Imperial Russia, by (August 13th)
For the Good of Mankind?: The Shameful History of Human Medical Experimentation, by (August 5th)
A Volcano Beneath the Snow: John Brown's War Against Slavery, by
Shackleton: Antarctic Odyssey, by (July 7th)
Red Madness: How a Medical Mystery Changed What We Eat, by (June 30th)
Hidden like Anne Frank: Fourteen True Stories of Survival, by (May 27th)
A Career As a Chef, by (May 19th)
The Basics of Biology, by (May 12th)
Doctor Who Character Encyclopedia, by (March 31st)
Miss Peregrine's Home for Peculiar Children: The Graphic Novel, by (March 25th)
Mandela and Truth and Reconciliation, by (March 10th)
The Most Excellent and Lamentable Tragedy of Romeo and Juliet : A Play by William Shakespeare, by (February 3rd)
The Art of Drawing Dragons: Mythological Beasts and Fantasy Creatures, by (January 20th)
The Ultimate Player's Guide to Minecraft, by (December 26th)
Stick it! : 99 D.I.Y. Duct Tape Projects, by (December 16th)
Boxers, by (December 2nd)
Bag of Marbles, by (November 25th)
Thrice Told Tales: Three Mice Full of Writing Advice, by (October 28th)
Super Graphic: A Visual Guide to the Comic Book Universe , by (October 21st)
Break These Rules: 5 YA Authors on Speaking Up, Standing Out, and Being Yourself, by (October 15th)
Hi-Tech Clothes, by (October 7th)
Templar, by (September 16th)
Dream Jobs in Sports Fitness and Medicine, by (September 2nd)
Jerusalem: A Family Portrait, by (August 12th)
Primates: The Fearless Science of Jane Goodall, Dian Fossey, and Birut Galdikas, by (July 26th)
A Teen Guide to Eco-Fashion, by (July 16th)
Drawing Manga Faces and Bodies, by (June 24th)
Relish: My Life in the Kitchen, by (June 17th)
Drama, by (May 6th)
The Bird King: An Artist's Notebook, by (April 29th)
Master of Deceit : J. Edgar Hoover and America in the Age of Lies, by (April 8th)
The Many Faces of George Washington: Remaking a Presidential Icon, by (April 2nd)
Temple Grandin : How the Girl Who Loved Cows Embraced Autism and Changed the World, by (March 9th)
The Good, the Bad, and the Barbie: A Doll's History and Her Impact on Us , by (February 25th)
Bomb : The Race to Build - and Steal - the World's Most Dangerous Weapon, by (February 18th)