Newest Non-fiction Book:
Pin Loom Weaving: 40 Projects for Tiny Hand Looms
by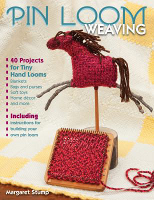 Margaret Stump has been creating wonderful fabrics and projects with pin looms for more than 40 years. Here you find 40 different projects you can create from these squares and rectangles.
It only requires 7 1/2 yards of yarn to complete a square, so gather up your hammer and nails and yarn stash and get to it. They are small enough to carry with you. But remember...it is addicting.
---
The Silver Lining: a Supportive and Insightful Guide to Breast Cancer
by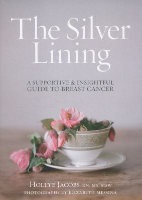 As a healthy, happy thirty-nine-year-old mother with no family history of breast cancer, being diagnosed with the disease rocked Hollye Jacobs' world.
Having worked as a nurse, social worker, and child-development specialist for fifteen years, she suddenly found herself in the position of moving into the hospital bed. She was trained as a clinician to heal. In her role as patient, the healing process became personal.
The Silver Lining is both Hollye's memoir and a practical, supportive resource for anyone whose life has been touched by breast cancer. In the first section of each chapter, she describes with humor and wisdom her personal experience and gives details about her diagnosis, treatment, side effects, and recovery.
The second section of each chapter is told from Hollye's point of view as a medical expert. She addresses the physical and emotional aspects of treatment and highlights what patients can expect. Looking for and finding silver linings buoyed Hollye from the time of her diagnosis throughout her double mastectomy, chemotherapy, radiation, and recovery. They gave her the balance and perspective to get her through the worst days, and they compose the soul of the book.
---
Older Adult Non-Fiction:
2014
Gandhi: Before India, by (July 14th)
Hidden Girl: the True Story of a Modern-Day Child Slave, by (June 30th)
You Can Date Boys When You're Forty: Dave Barry on Parenting and Other Topics He Knows Very Little About, by (June 9th)
I Am Malala: The Girl Who Stood Up for Education and Was Shot by the Taliban, by (March 24th)
Johnny Carson, by (March 10th)
The Fog Within, by (February 24th)
Brownie: Mascot of the Seventy-Fifth Naval Construction Battalion, by (February 17th)
Miss Kay's Duck Commander Kitchen: Faith, Family, and Food--Bringing Our Home to Your Table, by (February 3rd)
Wrestling with the Devil: The True Story of a World Champion Professional Wrestler - His Reign, Ruin, and Redemption, by (January 20th)
Living the Good Long Life: a Practical Guide to Caring for Yourself and Others, by (November 25th)
Daughter of Empire: My Life as a Mountbatten, by (November 18th)
The Things that Matter, by (October 21st)
The Little Way of Ruthie Leming, by (July 26th)
The Still Point of the Turning World, by (July 8th)
Gardenalia: Creating the Stylish Garden, by (June 17th)
The Secrets of Happy Families: Improve Your Mornings, Rethink Family Dinner, Fight Smarter, Go Out and Play, and Much More, by (May 28th)
Life is a Gift: the Zen of Bennett, by (May 20th)
Saturday Night Widows, by (March 25th)
38 Nooses: Lincoln, Little Crow, and the Beginning of the Frontier's End, by (February 18th)
The Devil in Pew Number Seven, by (February 4th)
Does This Church Make Me Look Fat?: A Mennonite Finds Faith, Meets Mr. Right, and Solves Her Lady Problems , by (January 28th)
Blood Feud: The Hatfields and the McCoys, by (September 17th)
Don't Put Me In, Coach: My Incredible NCAA Journey from the End of the Bench to the End of the Bench, by (September 10th)
Rather Outspoken: My Life in the News, by (August 13th)
I Beat The Odds: From Homelessness, to The Blind Side, and Beyond, by (July 30th)
Nearing Home: Life, Faith and Finishing Well, by (May 7th)
Worth Fighting For: Love, Loss and Moving Forward, by (April 30th)
The Nook Book: an Unofficial Guide, by (April 23rd)
The Garner Files: a Memoir, by (March 19th)
Built for Adventure: the Classic Cars of Clive Cussler and Dirk Pitt, by (March 12th)
Heaven is for Real (Audiobook), by (February 13th)
The Man Who Would Stop at Nothing: Long-distance Motorcycling's Endless Road, by (February 6th)
Building Resilience in Children and Teens: Giving Kids Roots and Wings, by (January 9th)
Jack Kennedy: Elusive Hero, by (December 5th)
A Home of Their Own : the Story of Ohio's Greatest Orphanages, by (November 7th)
The Final Curtsey, by (October 31st)
Cut Your Grocery Bill in Half with America's Cheapest Family, by (October 3rd)
My Lucky Life In and Out of Show Business, by (September 6th)
Growing Up Amish, by (August 29th)
Blood, Bones & Butter: the Inadvertent Education of a Chef, by (August 22nd)
Ohio Outback: Learning to Love the Great Black Swamp, by (August 9th)
Stories I Only Tell My Friends: an Autobiography, by (July 29th)
The Royal Wedding of Prince William and Kate Middleton, by (July 18th)
Two Kisses for Maddy: a Memoir of Loss and Love, by (July 5th)
Martian Summer: Robot Arms, Cowboy Spacemen, and My 90 Days with the Phoenix Mars Mission, by (June 27th)
Does the Noise in my Head Bother You?: a Rock 'n Roll Memoir, by (June 20th)
The Tiger: A True Story of Vengeance and Survival (May 30th)
Heroes for My Son, by (May 9th)
Hugh Martin: the Boy Next Door, by (May 2nd)
The G-Free Diet: A Gluten-Free Survival Guide, by (April 18th)
In the Blink of an Eye: Dale, Daytona and the Day that Changed Everything, by (April 11th)
Every Other Monday: Twenty Years of Life, Lunch, Faith and Friendship, by (March 28th)
Pioneer Woman: Black Heels to Tractor Wheels, by (March 21st)
Dirty Secret: A Daughter Comes Clean About Her Mother's Compulsive Hoarding , by (March 7th)
Bobby Flay's Throwdown, by (January 31st)
Dewey's Nine Lives: The Legacy of the Small-Town Library Cat Who Inspired Millions, by (November 1st)
Revolutionaries: A New History of the Invention of America, by (October 18th)
This Time Together: Laughter and Reflection, by (October 11th)
Somewhere Inside: One Sister's Captivity in North Korea and the Other's Fight to Bring Her Home, by (September 27th)
Blind Descent: The Quest to Discover the Deepest Place on Earth, by (August 23rd)
A Life's Work: Fathers and Sons, by (August 16th)
Saving Cinnamon : the Amazing True Story of a Missing Military Puppy and the Desperate Mission to Bring Her Home, by (August 9th)
The Coupon Mom's Guide to Cutting Your Grocery Bills in Half: The Strategic Shopping Method Proven to Slash Food and Drugstore Costs , by (May 31st)
The Happiness Project: Or, Why I Spent a Year Trying to Sing in the Morning, Clean My Closets, Fight Right, Read Aristotle, and Generally Have More Fun, by (May 24th)
The Immortal Life of Henrietta Lacks, by (May 17th)
Eat, Sleep, Poop: A Common Sense Guide to Your Baby's First Year, by (May 10th)
Chelsea Chelsea Bang Bang, by (May 3rd)
To Hell on a Fast Horse: Billy the Kid, Pat Garrett and the Epic Chase to Justice in the Old West, by (April 19th)
Making Rounds With Oscar: The Extraordinary Gift of an Ordinary Cat, by (April 12th)
Louisa May Alcott: The Woman Behind Little Women, by (March 29th)
The Duggars: 20 and Counting, by (March 22nd)
My Life in France, by (March 22nd)
Saving Ben: A Father's Story of Autism, by (March 15th)
The Trump Card: Playing to Win in Work and Life, by (February 1st)
Pioneer Woman Cooks, by (January 22nd)
Prairie Tale: A Memoir, by (January 11th)
How to Raise the Perfect Dog: Through Puppyhood and Beyond, by (January 4th)
On Hallowed Ground : The Story of Arlington National Cemetery, by (December 29th)
Highest Duty: My Search for What Really Matters, by (December 18th)
The 100 Best Volunteer Vacations to Enrich Your Life, by (September 14th)
Cloris: My Autobiography, by (September 8th)
Valkyrie: the Story of the Plot to Kill Hitler, by (August 31st)
Excuses Begone!, by (August 24th)
Dear First Lady: Letters to the White House, by (August 17th)
I'm Hosting as Fast as I Can!, by (July 6th)
Junk Beautiful: the Outdoor Edition, by (June 29th)
One Last Dance, by (June 22nd)
Columbine, by (June 15th)
Happens Every Day: An All-Too-True Story, by (June 8th)
Citizen-in-Chief: the Second Lives of the American Presidents, by (June 1st)
Shop Smart, Save More: Learn the Grocery Game and Save Hundreds of Dollars a Month, by (May 26th)
Get Me Out of Here: My Recovery from Borderline Personality Disorder, by (May 18th)
Pull Yourself Up By Your Bra Straps: and Other Quacker Wisdom, by (May 11th)
Farms and Foods of Ohio: From Garden Gate to Dinner Plate, by (May 4th)
The Birthday Cake Book: 75 Recipes for Candle-Worthy Creations, by (April 20th)
No Limits: the Will to Suceed, by (April 13th)
Kitty Bartholomew's Decorating Style: A Hands-On Approach to Creating Affordable, Beautiful, and Comfortable Rooms (April 6th)
What's Age Got to Do With It? Living Your Healthiest and Happiest Life, by (March 30th)
Surviving a Layoff: a Week-to-Week Guide to Getting Your Life Back Together, by (March 23rd)
Street Gang: the Complete History of Sesame Street, by (March 16th)
Crazy Aunt Purl's Drunk, Divorced & Covered in Cat Hair: the True-Life Adventures of a 30-Something Who Learned to Knit After He Split, by (March 9th)
All Pets Go to Heaven: the Spiritual Lives of the Animals We Love, by (March 2nd)
Eat This, Not That, by (February 9th)
The Glory Game, by (February 2nd)
Murder by Family: the Incredible True Story of a Son's Treachery and a Father's Forgiveness, by (January 19th)
Fleeced: How Barack Obama, Media Mockery of Terrorist Threats, Liberals Who Want to Kill Talk Radio, the Do-nothing Congress, Companies that Help Iran, and Washington Lobbyists for Foreign Governments are Scamming Us... and What to Do About It, by (November 10th)
What Happened: Inside the Bush White House and Washington's Culture of Deception, by (November 3rd)
You: Staying Young, by (October 27th)
The Monster of Florence, by (October 20th)
Home: A Memoir of My Early Years, by (August 4th)
Just Who Will You Be, by (July 28th)
Last Lecture, by (July 14th)
Ladies of Liberty: the Women who Shaped our Nation, by (May 12th)
Losing It: and Gaining My Life Back One Pound at a Time, by (April 14th)
New Earth, by (March 21st)
Eat, Pray, Love: One Woman's Search for Everything Across Italy, India, and Indonesia, by (January 28th)
Rescuing Sprite: A Dog Lover's Story of Joy and Anguish, by (January 21st)
Born Standing Up, by (January 14th)
Deceptively Delicious: Simple Secrets to Get Your Kids Eating Good Foods , by (December 31st)
The Age of Turbulence: Adventures in a New World, by (November 26th)
Giving: how each of us can change the world, by (October 15th)
Quiet Strength, by (September 3rd)
Where Have All the Leaders Gone, by (July 2nd)
Animal, Vegetable, Miracle, by (June 25th)
Born on a Blue Day, by (April 2nd)
You: On a diet, by (March 26th)
When Darkness Falls, by (February 26th)
Good Roots, by (February 19th)
Cesar's Way, by (February 12th)
Audacity of Hope, by (January 26th)
Grayson, by (October 16th)
Before You Leap, by (October 9th)
Marley and Me, by (August 21st)
Endurance: Shackleton's Incredible Voyage, by (August 7th)