Storytimes
Join us
Mondays at 6:30pm
,
Tuesdays at 10:30am
, and
Wednesdays at 10:30am
for stories, songs, crafts, and lots of fun.
Gingerbread House Contest
Entry forms are now available at the main desk. Submit the form when you bring in your house during the week of December 2
nd
-7
th
.
(Read More.)
Entries will be on display for public viewing during our Christmas Open House. Judges will award first and second place prizes for each category, and a grand prize for Best in Show will be determined by popular vote, so be sure to vote for your favorite entry (limit one vote per person per day).
Fri, Dec 6th
and
Sat, Dec 7th
.
Christmas Open House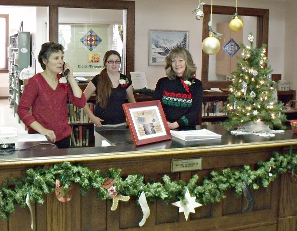 Join us at the library for this popular annual holiday event. We've packed out the afternoon with a full schedule of entertainments and activities.
There will be reader's theatre entertainment presented by Spoken Images at 1:00, singer Kim Lovely at 1:30, Showtunes at 2:00, and pianist Lamar Wyse playing keyboard music at 2:30.
Don't miss our annual gingerbread house contest display. The Best in Show grand prize will be determined by popular vote.
There will be arts and crafts displays, including hand-made work by the Creative Crafters.
Kids, don't miss the make-it take-it crafts and the special storytimes. Also, Bad Kitty will be appearing.
There will be carriage and wagon rides, including an additional wagon this year and a new route from here to Brownella and back -- convenient since the Historical Society will also be holding an open house there at the same time. The carriage and wagon rides will be provided by Pine Acres Carriage Service, co-sponsored by Galion Building and Loan.
Three different local bakeries will be bringing us hundreds of cookies, and punch will be provided by the Friends of the Library.
Each person who comes to the library between 2 and 4pm will receive a free raffle ticket which can be entered into a drawing to win either a Kindle Paperwhite with Wi-Fi capability (upstairs) or a Leap Pad 2 Explorer kids' learning tablet (downstairs).
The first Come Home to Galion scavenger hunt ornament, featuring a photo of the library, will also be available. Pick one up at the library before you go out to gather the others, and don't forget to look for us in the parade later.
Sat, Dec 7th, 1-3pm
.
Holiday Make-It Take-It Crafts
Come in anytime during regular library hours for a holiday craft to make and take home. For children of all ages. No registration required: you can just show up. Ask at the children's room desk for more information.
Mon, Dec 23rd
Thu, Dec 26th
Fri, Dec 27th
Sat, Dec 28th
Movie Day
The children's department will be showing a PG-rated animated feature film.
(If you are curious about the film, you can see the movie listing on IMDb.)
Popcorn and punch will be served. For grades K-6. Registration is required: call the library or stop by the children's room to sign up. Remember to bring your blanket and pillow.
Fri, Dec 27th at 3pm
.
Blizzard Bash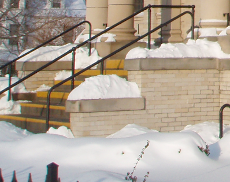 Come out in the cold
for some wintery crafts, games, and treats. For grades K-6. Registration is required: call the library or stop by the children's room to sign up.
Sat, Jan 18th, 2-3:30pm
.
Fancy Nancy Tea Party

Dress in your fanciest and come celebrate Valentine's Day with our 3
rd
annual Fancy Nancy tea party. For grades K-2. Registration is required: call or stop by the library to sign up.
Sat, Feb 1st, 2-3:30pm
.
Summer Reading Program Photo Galleries
We've started posting pictures from our summer programs in
our photo galleries
.
(Read More.)
So far we've got photos of the soil and water conservation program, the Star Wars day, the party on the lawn, and the Crawford Park District program. We'll be posting more summer program photos in August.
Policy Changes
Starting September 1
st
, 2013:
(Read More.)
As before, videos still may only be renewed once. Thanks for your patience and understanding as we implement these changes.