Board of Trustees
The library board meets at the library at 4pm on the third Monday of each month.
Twelve Days of Christmas Raffle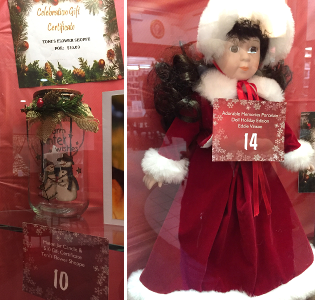 Items will be on display thru
December 20th
.
We also have beautiful photographs of the items in our photo gallery.
Raffle Tickets are $1 each or 6 for $5 and may be purchased at the front desk.
(Read More.)
Crock Pot from Poland Hardware
Two Glass Christmas Trees from the Evergreen
$50 at Ralphie's
$50 at Ralphie's
#25 at Topia Boutique
$25 at Shieber's Auto Care
$15 at Tubby's - $5 at Family Video
$15 at Tubby's - $5 at Family Video
Handcrafted Primitive Box from Lou & VivianSchomburg
Mason Jar Candle & $10 at Toni's Flower Shoppe
$10 at Toni's Flower Shoppe
Christmas Box with Christmas and Note Cards from Rosie Faulds
Tiffany Porcelain Special Edition Doll from Eddie Vinson
Adotable Memories Porcelain Doll from Eddie Vinson
OSU Crock Pot from Drug Mart
Vintage Imperial Carnival Glass Plate from The Evergreen
Original Oil Painting from Sandy Hocker
Wooden Reindeer Candle Holder & Candle from Crossroads
Gardening Basket from North End Gardening Club
Wed, Dec 20th
.
Family Movie
Watch this space for more library programs and news.