Curbside Service
Curbside Service Hours

| | |
| --- | --- |
| Mon-Sat | 1—5pm |
Starting
Monday, May 11th
, we will once again be offering curbside service during the afternoons. Patrons are encouraged to use their accounts through the
Galion Public Library online catalog
or the Consortium of Ohio Libraries (COOL) mobile app to search for materials and place items on hold.
Once your requested items have been pulled from the shelves for you, we will call to let you know that your items are ready. Please call the library before you arrive and a staff member will leave your materials at a designated spot outside for you to pick up.
Please check that your location is set to Galion Library when searching for materials. Other libraries within our Consortium may not be operating yet, and deliveries may not be happening, so unfortunately we are not confident that we can offer interlibrary loan service yet. We will post further announcements here as more information becomes available.
For help setting up a Galion Library or COOL account, please contact the library. If you do not have access to the Internet and would like to request library materials, please also contact the library at 419-468-3203, during our afternoon Curbside Service operating hours.
When Women Became People
Kimberly Hamlin will be hear to speak to us.
Overdue Notices, May 2020
If you have recently received an overdue notice from our automated system, please ignore it for now, with our apologies for any confusion. We are currently still closed. You will not be expected to pay any overdue fees as a result of this crisis. We do hope to start providing curbside service again soon. Watch this space for more details.
Ancestry Library Now Available Remotely
I have just been informed that our state-provided subscription to
Ancestry Library
, no longer requires you to be in the library to access the service. You can access it from home
using this link
.
Imagine Your Story: Summer Reading 2020
Individuals who have finished 6th through 12th grades can participate in our teen summer reading program! This year, all you have to do is play BINGO! Anyone who completes at least 1 BINGO will win a book and a prize. Prizes will be available beginning July 20. Each BINGO will also earn you an entry into a gift card drawing at the end of the summer.
You can pickup your BINGO sheet at the library or download the bingo sheet here. If you print your BINGO sheet online, please register. Please put your age in the "library card #" box.
Teens are also welcome to request/download the adult summer reading packet and participate in any of the weekly tasks, but instead of being entered in the adult prize drawings, they will earn entries into the teen gift card drawings.
Mr. Puppet
Join us for a virtual show with the fabulous Mr. Puppet! Four short sketches will be available to view June 10-July 31. Wed, Jun 10th.
Science Tellers present Dragons
Join us for a video party as the Science Tellers present Dragons! This event will be hosted through Zoom. If you were unable to attend and would like to watch the recording, please
visit this link
.
The password is: science20!
A huge thank you goes out to the Friends of the Library and the Galion Community Foundation for sponsoring this event!
Wed, Jul 8th at 2pm
.
Storyteller Lyn Ford
All ages are invited to join us on Zoom as storyteller Lyn Ford "throws stories!" If you missed the live event and would like to watch the recording, please
visit this link
.
The password is: 7d#472.+
Wed, Jun 24th at 2pm
.
Imagine Your Story: Summer Reading 2020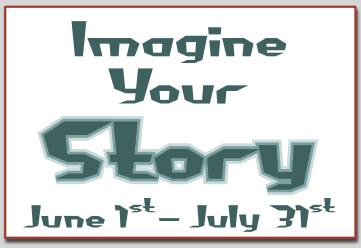 Summer reading runs
June 1st through July 31st
for all ages. See
Adult Summer Reading
,
Teen Summer Reading
, or
Children's Summer Reading
for details.
Adult Summer Reading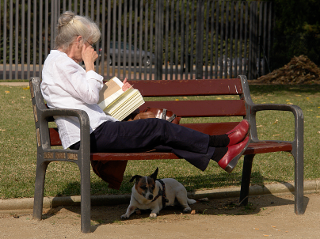 Adults of all ages are invited to participate in our Summer Library Program.
All adults who register will receive an
Imagine Your Story
reusable bag. You can download
the weekly activities packet
and
BINGO boards
, or you can call the library to sign-up and pick up your activities packet.
If you decide to print your activities packet and BINGO boards at home,
please register here
. Be sure to include your phone number so we can contact you about picking up your bag, activities packet, and any prizes you win! Winners of each weekly drawing will be announced on
Saturdays, beginning June 6th
.
Imagine Your Story: Summer Reading 2020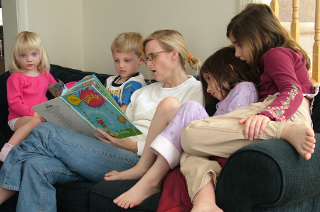 Children ages 0-12 are invited to participate in our Summer Reading Program! Get a reading log at the library or print one here. Children who complete at least one "operation" will receive a book and goodie bag. Prizes will be available beginning July 20th. You can
download page one
and
page two of the summer reading log
here or call the library to pick up your copy. You can also get three
Mad Libs
:
Choosing New Books
,
Here, There Be Dragon
, and
Fairy Tale Forest
. If you pick your reading log up at the library, you will also receive
magic beans
to grow and scales to decorate for our dragon, which will help with two of your tasks! If you print your reading log online, please
register your child
. Please put their age in the
library card #
box.
Book Chat
Note that these book chats are held
off-site
.
Book Donation Day
The
Friends
will be taking donations of used books in good condition on
Saturday, June 20th from 1-3pm
. Bring your used books directly to the library storage building (along the alley between the library and First Federal bank), and the Friends will store them for a future used book sale.
Book Drop Open: Please Return Your Items
If you have library items out that are overdue, now is the time to return them. If you can't make it in during our limited hours, we have 24-hour book drops by both entrances. Because of the pandemic, we have been waiving all overdue fines since March; but the temporary fine amnesty will come to an end soon. Please return your overdue library items.
Anime Club
Join us for anime, manga, cosplay, and Japanese culture. Teens in grades 6-12 are welcome. You do not need to register for the anime club: you can just show up.
Games Club
Join us for board games and card games. Bring your own game or play one of ours. Grades 6-12 are welcome to attend. Refreshments are provided. No registration is needed.
Teen Board Meeting
Teens in grades 6-12 are invited to participate in the library's Teen Board. The Teen Board meets monthly to plan teen programs and select materials for the YA collection. Teens do not need to register before attending.
Limited Opening
Starting
July 1st
, we will be opening the building to the public on a limited basis, with some restrictions.
Only the downstairs entrance will be open. The historic front entrance will remain locked.
Hours will be 9:30am-5pm Monday through Friday, and Noon-4pm on Saturdays.
The library asks that all children be accompanied by an adult.
The wearing of masks or face coverings is strongly encouraged, and we ask that everyone adhere to social distancing guidelines and maintain a minimum 6-foot distance from others.
Limited computers will be available (due to distancing requirements and space limitations). Computers will be booked for 30-minute time slots starting every half hour, and will be wiped down after each use. We encourage you to call ahead to reserve a time slot, so you don't have to wait for a computer once you arrive.
There will be a limited number of people permitted in the building at any given time, so we ask that everyone keep your visits brief when possible, to allow for others to have a turn.
Curbside service will also remain available. If you are not comfortable coming into the building, you can continue to pick up books and movies at the door and return them in the book drop. In fact, it's encouraged.
Thanks for bearing with us during this crisis.
Now Hiring: Student Shelver
Yoga on the Lawn
We are excited to offer the Yoga on the Lawn program again this year. Oasis Yoga Studio was planning to hold sessions
each Tuesday at 5:30 PM throughout August and September

, weather permitting
, but these sessions are now
postponed until further notice
.
We do ask that you bring your own mat or towel to use to each session. Registration is requested, but not required. Participants are asked to maintain social distance during the event.
Grab-N-Go Craft Kits
A new craft will be available
every other Monday
and will include craft supplies and instructions. Call the library to reserve a craft kit, or simply stop by the main desk to pick one up.
Family Learn and Play Monday
Play, build, and manipulate open-ended materials into any creation you can imagine. This program is for families. Adults are requested to stay and participate with their children. You do not need to register for this program: you can just show up.
Outdoor Book Sale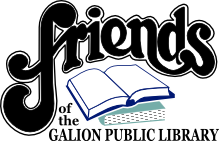 Weather permitting, there will be a used book sale on the library's east lawn.
used books, magazines, tapes, and CDs
lots of kids' books, arts and crafts books, and novels
materials will be laid out on tables on the lawn
all materials will be by donation
masks and social distancing required
event will be canceled if there is inclement weather
your generous donations support our library
Sat, Sep 12th, 10-2pm
.
Story Time Show & Tell
Join Miss Nancy on Zoom for a Story Time Show & Tell! Each participant may share up to 1 book and 1 toy with the group.
Click here to join the meeting!
Thu, Sep 17th, 10:30-11am
.
Pumpkin Carving Party
Please call or stop by the library to register in advance if you want to attend this program. We will have 20 socially distanced carving spaces set up on the lawn for each session. The library will provide pumpkins, carving tools, and stencils at each station. Tools will be sanitized between sessions.
Sat, Oct 24th, 1-2:30pm
and
Sat, Oct 24th, 2:30-4pm
.
Harding Way A to Z Hunt
Individuals and families of all ages are invited to participate in a photo scavenger hunt. We have taken 26 photos, one for each letter of the alphabet, and you need to identify what business or organization they are from. Completed answer sheets should be returned by
October 31st at 4pm
. Two individuals will be randomly chosen from these entries to win a prize package including gift certificates and local merchandise.
Forms
can be picked up at the library or printed during the month of October. All photos can be found along Harding Way between Liberty and Union. Each photo is of a letter taken from the name of a business or organization.
Closed

The library will be closed in observance of the holiday.
Library Board Meeting
Mon, May 18th
Mon, Jun 15th
Mon, Jul 20th
Mon, Aug 17th
Mon, Sep 21st
Mon, Oct 19th
Mon, Nov 16th
Mon, Dec 21st
Older Archives