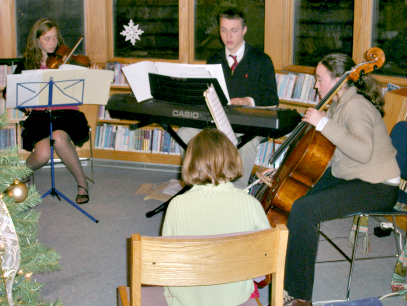 Holiday Open House
On Tuesday, December 12
th
, we celebrated the holiday season with a great night of activities at the library. We had make-it take-it crafts for the kids, and
two
special Christmas concerts: the
Novack Trio
performing Christmas songs downstairs at 6:00, and the
Prestige Trio
, an instrumental group from Columbus, performing a holiday concert upstairs at 7:00. Also at 7:00 there was a special Christmas Story Time for the children, and afterward a visit with Mrs. Claus.
Surplus Computer Hardware
We have some surplus computer hardware that we are looking at selling. Some of the more specialised stuff (especially the DEC equipment) we are selling on ebay, because it would be hard to find a local buyer. However, we might sell some of the consumer-grade stuff (e.g., the iMac) locally. In any case,
photos are up
in the photo gallery.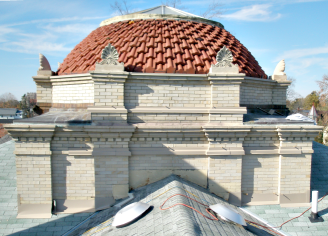 Building Maintenance
We've been having a lot of work done around here: roof work, windows, the steps, and the like.
Here are some pictures of the work.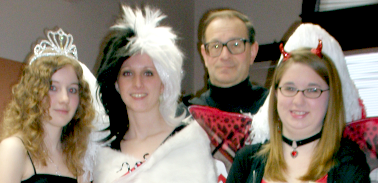 Halloween Costumes
The halloween costume photos are finally in.
Check 'em out!
Teen Mystery Night

On October 21
st
, each person took on a character, became a suspect, and worked to solve the mystery before someone else accused them of the crime!
See the photos in the gallery!
Book Sale a Success!
The
Friends of the Library
held their
fall booksale
, raising some $1200. The Friends use the moneys they raise to purchase needed equipment and materials for the library. The Used Book Sale, typically held twice a year in the spring and fall, is one of their larger fundraisers.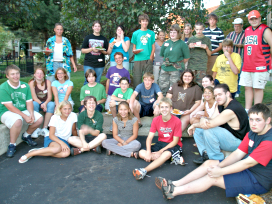 Teen End of Summer Reading Party
On August 11
th
, we met on the lawn for a cook out and games, then went indoors and tried out some
vintage
video games, other activities, and refreshments.
Check out the photo gallery.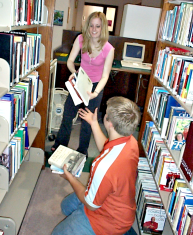 Shifting Materials
As you may have noticed, we've been moving some things around on the shelves a bit, a practice we call
shifting
. This is something we have to do from time to time, in order to keep the precious little empty shelf space that we have evenly spread out, so that there is room for new items in all areas of the collection. Right now we're shifting the adult non-fiction collection.
View more photos of the shifting.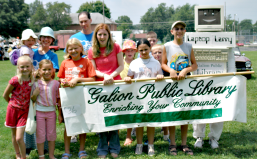 175th Anniversary Parade
The Galion community held a parade to commemorate 175 years of Galion history, and the library was represented.
The photos are in.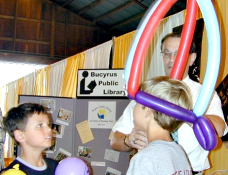 Crawford County Fair
We were pleased to participate this year in the Crawford County Fair, along with other Crawford County libraries, and
the photos are in
. A little-known fact about our director is that he sometimes makes balloon animals. This is the first time we've been out to the fair in a couple of years, but we hope to be back again next year.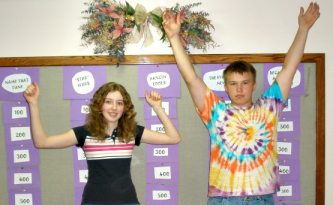 Teen Trivia Challenge & Costume Contest
The photos are in.
We had a great time at this — if you missed it, you missed out.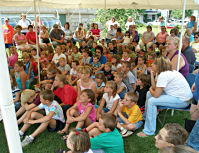 Animal Guests
Wednesday, July 19
th
, we had animals here from the Columbus Zoo! (The one shown to the left is a
dingo
.) We had a great turnout for this program, with many children in attendance.
View more photographs of this event in the photo gallery.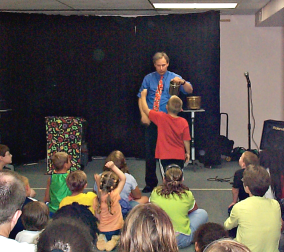 Magician
Illusionist Andrew Martin entertained children at the library on July 12
th
. We have now put up
a photo gallery of this program
, as well.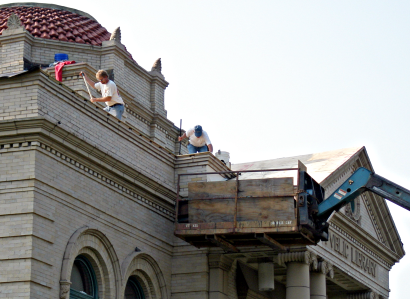 Roof Work
You may have noticed that we are having some work done on the library roof. For your safety, the front entrance may be roped off at times. We think this library building is worth repairing. Please bear with us as we do what needs to be done to ensure the long-term health of a building that is beginning to show its age.
View photos of the roof work.