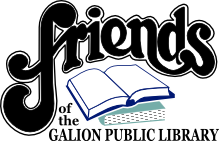 The Friends of the Galion Public Library are an active, non-profit group of interested patrons who meet regularly and assist the library in various ways.
In addition to the gargantuan task of managing the used book sale, the friends undertake various other fundraisers. The gathered funds are used to donate needed items for the library, including technology (computers, printers, microfilm readers, ...), furniture (book carts, reading-room chairs, ...), and items for library programs. The Friends sometimes also volunteer in other ways, from helping plant flowers to assisting with the processing of new materials for the collection.
If you would like more information about the Friends of the Library, contact
the library staff
for more information.
The Friends of the Library used book sale is usually held twice a year, in the spring and in the fall, pending that enough used books and other materials have been collected. Items for the sale may be donated throughout the year: just bring them in to the library. (However, we do not accept used magazines or newspapers or old encyclopedias for the sale, because they do not sell well enough to justify the space they take up.)
The Friends would like to issue a big Thank You to Galion and the surrounding area for your support and donations, which made our Fall Book Sale a tremendous success. The Friends of the Library use these funds for various projects and efforts to increase the services available at the library. We truly appreciate the generosity of the community.