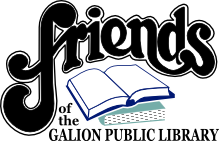 The Friends of the Galion Public Library are an active, non-profit group of interested patrons who meet regularly and assist the library in various ways. For current news items, see
the Friends of the Library news page
.
In addition to the gargantuan task of managing the used book sale, the friends undertake various other fundraisers. During the summer from May to October, the Friends continue to participate by setting up a stand at the farmers' market held at Heise Park. Another project the Friends undertake each year is the Twelve Days of Christmas raffle: ticket holders can choose from at least a dozen different prize drawings each December.
The Friends of the Library Used Book Sale is held usually twice a year, in the spring and in the fall, provided enough used books and other materials have been collected. Items for the sale may be donated throughout the year (just bring them in any time the library is open). Only books that are in very good or excellent condition make it to the sale. The Friends accept history, childrens' books, novels, cookbooks, romance, biographies, paperbacks, etc., as well as magazines on certain topis (cooking, decorating, science, etc.) and other popular media such as CDs, DVDs, jigsaw puzzles, vintage postcards, sheet music, old books, and other interesting vintage paper items.
The gathered funds are used to donate needed items for the library, including technology (computers, printers, microfilm readers, ...), furniture (book carts, reading-room chairs, ...), and items for library programs. The Friends sometimes also volunteer in other ways, from helping plant flowers to assisting with the processing of new materials for the collection.
If you would like more information about the Friends of the Library, contact
the library staff
for more information.
2017 Officers
| | |
| --- | --- |
| President: | Sandy Farina |
| Vice President: | Denise Iden-Koffel |
| Secretary: | Pat Bash |
| Treasurer: | Kay Stowe |