Galion Public Library Website
Thank you for your interest in our website. If you have questions or comments about the information on the website, or suggestions for information that should be included, please don't hesitate to contact us.
net

webm

library

as

galion

ter
Internet Service Providers
The Galion Public Library website is kindly hosted by
Bright Choice
. Our connectivity and bandwidth is provided by the
OPLIN
. The OPLIN also provides access to a collection of special information resources in the
Ohio Web Library
.
Browser Support
If you find that things don't look quite right, and it bothers you, you might try upgrading to the latest version of one of those.
I've also tried to make the site
usable
with
any browser
. If you have trouble getting the site to work in a particular browser, please email me at the address above. If possible, please attach a screenshot showing the problem, and copy the text from
this special page
.
Thanks for helping us make the site better for you.
Browser Statistics
I happen to have created a pie chart based on our user agent statistics from 2012. Like all statistics, it's a rough estimation, but for the benefit of anyone who is curious, I have included it below.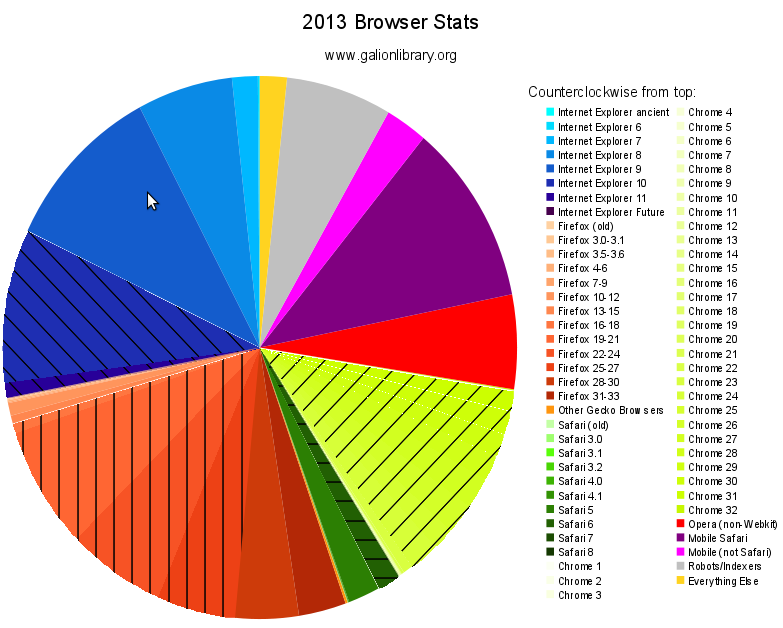 The browser stat pie charts
from 2009
,
from 2010
,
2011
, and
2012
are also still available.
Technical Details
The website is implemented primarily in well-formed XHTML and styled with CSS. Content for each page is created using a text editor and stored in a database (currently MySQL), and the software that puts the pieces together and publishes the results is written in-house in Perl and maintained using Emacs. Since we only have one web developer, version control is largely limited to having a separate beta copy of the site so that changes can be tested before publication.
Since late 2013, the stylesheet for our website has made extensive use of CSS media queries in an attempt to ensure a reasonable viewing experience on screens of all shapes and sizes, from large widescreen plasma displays all the way down to handheld feature-phones. If you encounter a situation where this doesn't quite work (and especially if you end up with content hanging off the right side of the screen where you can't read it), I would appreciate seeing a screenshot or photo of the problem, so I can investigate how the stylesheet might be changed to handle the situation better.