Recent Discussion Books:
Half Broke Horses, by Jeannette Walls
Discussed on Thursday, April 4th, 2013 at 6:30pm
"Those old cows knew trouble was coming before we did." So begins the story of Lily Casey Smith, Jeannette's no-nonsense, resourceful, and spectacularly compelling grandmother. By age six, Lily was helping her father break horses.
At fifteen, she left home to teach in a frontier town, riding five hundred miles on her pony, alone, to get to her job. She later learned to drive a car and fly a plane, and, with her husband, Jim, she ran a vast ranch in Arizona, raised two children, and survived tornadoes, droughts, floods, the Great Depression, and heartbreaking personal tragedy. She bristled at prejudice of all kinds: against women, Native Americans, and anyone else who didn't fit the mold.
Rosemary Smith Walls always told Jeannette that she was like her grandmother, and in this true-life novel, Jeannette Walls channels that kindred spirit. Half Broke Horses is like Laura Ingalls Wilder for adults.
Language of Flowers, by Vanessa Diffenbaugh
Discussed on Thursday, March 7th, 2013 at 6:30pm
The Victorian language of flowers was used to convey romantic expressions: honeysuckle for devotion, asters for patience, and red roses for love; but for Victoria Jones, it's been more useful in communicating grief, mistrust, and solitude.
After a childhood spent in the foster-care system, she is unable to get close to anybody, and her only connection to the world is through flowers and their meanings. Now eighteen and emancipated from the system, Victoria has nowhere to go and sleeps in a public park, where she plants a small garden of her own. Soon a local florist discovers her talents, and Victoria realizes she has a gift for helping others through the flowers she chooses for them.
Soon a mysterious vendor at the flower market has Victoria questioning what's been missing in her life, and when she's forced to confront a painful secret from her past, she must decide whether it's worth risking everything for a second chance at happiness.
There Was a Time, by Ken Hammontree
Discussed on Thursday, February 7th, 2013 at 6:30pm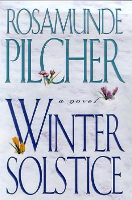 Winter Solstice, by Rosamunde Pilcher
Discussed on Thursday, January 3rd, 2013 at 6:30pm
Elfrida Phipps, once of London's stage, moved to the English village of Dibton in hopes of making a new life for herself. Gradually she settled into the comfortable familiarity of village life, shopkeepers knowing her tastes, neighbors calling her by name; still she finds herself lonely.
Oscar Blundell gave up his life as a musician in order to marry Gloria. They have a beautiful daughter, Francesca, and it is only because of their little girl that Oscar views his sacrificed career as worthwhile.
Carrie returns from Australia at the end of an ill-fated affair with a married man to find her mother and aunt sharing a home and squabbling endlessly. With Christmas approaching, Carrie agrees to look after her aunt's awkward and quiet teenage daughter, Lucy, so that her mother might enjoy a romantic fling in America.
Sam Howard is trying to pull his life back together after his wife has left him for another. He is without home and without roots; all he has is his job. Business takes him to northern Scotland, where he falls in love with the lush, craggy landscape and set his sights on a house.
The strange, rippling effects of a tragedy will bring these five characters together in a large, neglected estate house near the Scottish fishing town of Creagan.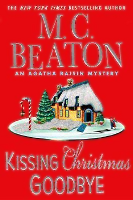 Kissing Christmas Goodbye, by M. C. Beaton
Discussed on Thursday, December 6th, 2012 at 6:30pm
Agatha has not given up on Christmas. She is, however, bored. Her detective agency in the Cotswolds is thriving, but she'll scream if she has to deal with another missing cat or dog.
The perfect Christmas was a childhood dream while surviving her rough upbringing in a Birmingham slum. In her dreams, James Lacey kissed her under the mistletoe... This year she is sure that if she invites James to a really splendid, old-fashioned Christmas dinner, their love will rekindle like a warm Yule log.
When a wealthy widow hires Agatha because she's convinced a member of her family is trying to kill her, Agatha is intrigued, especially when the widow drops dead after high tea at the manor house. Who in this rather sterile house, complete with fake family portraits, could have hated the old lady enough to poison her?