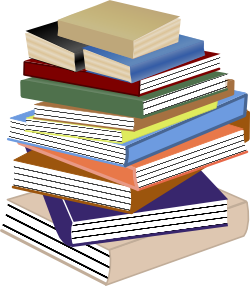 Friends of the Library Used Book Sale
The friends of the library will be holding their spring book sale the last week of May. There are more videos than usual this time, so be sure to check it out.
Fri, May 29th, 9-5pm
,
Thu, May 28th, 9-8pm
, and
Sat, May 30th, 9-2pm
.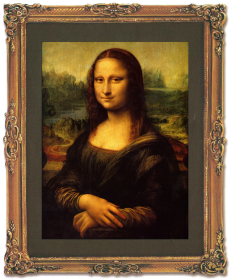 Master the Art of Reading
Our adult summer reading program runs June 1
st
through July 31
st
. Spend Time in a Cool, Peaceful Environment. Write Reviews. Win one of 3 Weekly Prizes.
Date
1st Prize
2nd Prize
3rd Prize
June 6th
McDonald's
Geyer's
Savings Bond ($50 at maturity)
June 13th
KFC
Wendy's
Uptowne Outfitters
June 20th
Way Off Center Café
Speedway
Poland's Hardware
June 27th
McDonald's
Geyer's
Savings Bond
July 3rd
KFC
Wendy's
Uptowne Outfitters
July 11th
Way Off Center Café
Speedway
Poland's Hardware
July 18th
McDonald's
Geyer's
Savings Bond
July 25th
KFC
Wendy's
Uptowne Outfitters
August 1st
Way Off Center Café
Speedway
Poland's Hardware
Grand Prize
Overnight Stay at the Presidential Inn Bed & Breakfast
Prize will be drawn on August 1st from all entries submitted during the entire 2009 Summer Reading program.
Prizes may change subject to availability, but the price range will remain the same.
Express Yourself! Summer Reading 2009
Teens going into grades 7-12 can sign up at the Main Desk upstairs and start reading items from the library. For every book read, fill out a book rating form, which will be placed in our prize drawing.
Each week we will have a drawing for 2 $10 gift certificates for cool places like Wendy's, Barnes and Noble, Kohl's, Best Buy, Bath and Body, Off Center Café, Pop's Sweet Shoppe, Family Video, and many more! We'll also keep all the book rating forms for the Grand Prize Drawing, a $50 Barnes and Noble Gift Certificate, which will be drawn at the End of Summer Reading Party.
New this year: Teens who attend Summer Reading events will be able to enter bonus tickets in the weekly drawings! Be sure to check out our teen programs this summer to express your creative genius.
Be Creative: Summer Reading Club
Explore the world of music, dance, art, books and more! The 2009 Summer Reading Club is open to young people in preschool through grade 6. Join us for programs, prizes, story times and a reading club. How the reading club works:
Starting June 1st, pick up a Summer Reading Log and Be Creative book bag at Galion Public Library.
Check out books to read at home and keep track of the time spent reading.
Books and magazines should come from Galion Public Library and be at the child's appropriate reading level
Prizes:
2 hours: Be Creative temporary tattoo
4 hours: guitar pick dog tags
6 hours: Be Creative cube puzzle
8 hours: tinsel ball
10 hours: decorate your own mask
Plus we'll have extra prizes for those who keep reading beyond ten hours.
Be Creative and Tell Your Story!
Ashland Author Dandi Mackall will be here for a program and book signing.
Wed, Jun 24th at 6:30pm
and
Wed, Jun 24th at 1:30pm
.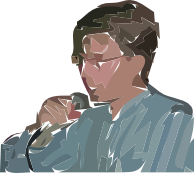 Talent Show
Show off your talents. Read a poem, sing a song, tell a joke, play an instrument, or  demonstrate a skill. Displays of artwork are also encouraged. Appreciative audience members are also needed. Door prizes will be awarded, and bonus weekly prize tickets will be given to those who attend and/or participate. Registration is required. Refreshments will be provided.
Fri, Jun 12th, 7-9pm
Fri, Jun 19th, 7-9pm,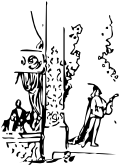 Improv Night
Got the acting bug? Try out our improv night. Improvisation is the spontaneous acting method made famous by comedians such as Robin Williams and shows such as Whose Line is it Anyway? Hollywood actor Glen McDougal, who has trained with such famous improv groups such as
the Groundlings
, will be here to demonstrate improv and lead the crowd through fun and hilarious activites. Registration required.
Wed, Jul 1st, 6:30-8:15pm
.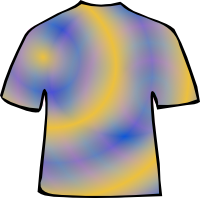 Express Yourself with Tye-Dyed T-Shirts!
Enjoyed by hippies and summer campers for decades, the tie dyed t-shirt has become a work of art. Bring in a white T-shirt (pre-washed; cotton/poly blend works best), and we'll have the dyes, rubber bands and other materials to give it a style all your own. Registration required.
Thu, Jul 9th, 6:30-8:15pm
.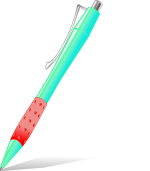 Express Yourself through Creative Writing
Local author Rachel Mendell will guide teens through several creative writing exercises. Registration is required.
Thu, Jul 23rd, 6:30-8:15pm
.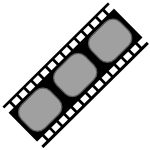 Movie at the Library
Join us in the community room, and we'll watch the movie together on our big screen. Refreshments are provided.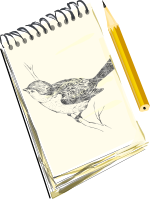 Master the Art of Drawing
Join us (with instructor Carol Kable) to learn basic drawing techniques. Supplies will be furnished at no charge. Please register at the main desk.
Mon, Jun 8th, 6-8pm
.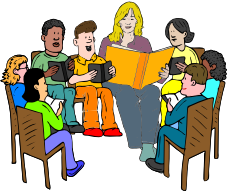 Family Story Time
Parents, come in to the library with your children on Tuesdays at 6:30pm for stories, crafts, and family fun together. Family Story Time is designed for family interaction, so the craft is more difficult than what we do at the Toddler/Preschool Story Time.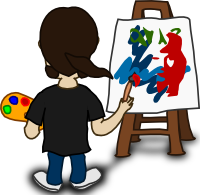 "Artsy Smartsy Club"
Attention, budding artists in grades 3-6: join our
Artsy Smartsy Club
and learn to Be Creative at the library! On six Monday afternoons this summer, learn about famous artists and try out their unique styles of expression. Registration is required for this series of programs, but there is no cost to join the club.
The first installment of Artsy-Smartsy photographs is up now in the photo gallery.
Mon, Jun 8th, 4-5pm
Mon, Jun 22nd, 4-5pm
Mon, Jun 29th, 4-5pm
Mon, Jul 6th, 4-5pm
Mon, Jul 13th, 4-5pm
Mon, Jul 27th, 4-5pm
Toddler/Preschool Story Time
The Toddler and Preschool Story Time is held at the library on Wednesdays at 10:30 am. Stories, crafts, and fun!
Spoon Man
Come see and hear this musical comedian who
has a totally clean act: he never uses dirty silverware!
Thu, Jun 11th at 1pm
and
Thu, Jun 11th at 7pm
.
Job Openings
The library has
two job positions opening up for part-time Shelvers
. We will take applications between June 8
th
and June 20
th
.
The Shelver in the Adult Area will be starting in July; the Children's Area Shelver will be starting in August. These are minimum-wage positions. Successful applicants will work 12-18 hours per week throughout the year, not just summer. The Adult Area Shelver will need to work afternoons, evenings, and Saturdays. The Children's Area Shelver will need to work evenings and Saturdays. Both positions are supervised at all times. Although the main function of the positions is to reshelve books and put away other library items, the successful applicant will also help at the Circulation Desks and have other duties as well. The library will be giving a short test to cover alphabetizing ability and other library-related skills before the interviews. Successful applicants will need to stand on their feet for long periods and be able to reach and lift to put away books. Successful applicants will also need to have good people skills for working with the public.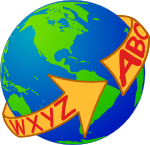 Around the World from A to Z
Harpbeat presents
Around the World from A to Z
.
Wed, Jun 17th at 6:30pm
and
Wed, Jun 17th at 2pm
.
Dandi Daley Mackall - Tell Your Story
Children's author Dandi Daley Mackall will be visiting us to speak to the children. Dandi hails from Ashland and is a well-known author of children's books. A professional writer for over 20 years, she has written dozens of articles for popular magazines and published around 400 books for children and adults, with sales over 4 million. Dandi lives in rural Ohio with her husband, three children, horses, dogs, and cats. Due to the benevolence of an anonymous donor, we are able to present this program to our patrons free of charge. Dandi will have a selection of her books on display to sell, and will do book signings.
Wed, Jun 24th at 1:30pm
and
Wed, Jun 24th at 6:30pm
.
Informal Book Chat
Join us for the monthly book chat.
Fri, Jun 26th at 10am
.

Draw, Paint, Sing, Create: A Magical Library Show
Matthew Bryan Taylor's personal creativity and talent enables him to bring us a blend of comedic magic that allows everyone to participate.
Wed, Jul 8th at 1:30pm
and
Wed, Jul 8th at 6pm
.
Political Rally at the Library
State Representative Jeffrey McClain will be at the library. Be there to tell him how you feel about drastic cuts to your library's funding. Wear red if you are against the cuts.
Thu, Jun 25th, 3-5pm
.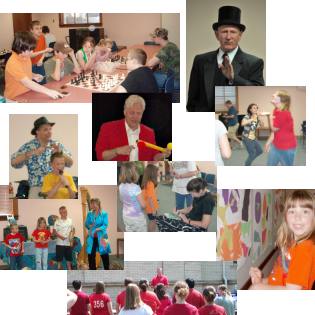 Summer Program Photos
Don't forget to check out the
Photo Gallery
for pictures from many of our summer programs. The Teen Game Night; the Artsy Smartsy Club; the Spoon Man; Dandi Daley Mackall; the political rally; the Teen Improv Night; Around the World; and the Draw, Paint, Sing, Create magic show are all represented. Check 'em out!

Magician Rick Smythe
Rick Smythe will perform a magic program.
Wed, Jul 29th at 1:30pm
and
Wed, Jul 29th at 6:30pm
.
Board of Trustees meeting
The Galion Public Library Board of Trustees meets monthly in the Board Room.
Closed
The library will be closed for the holiday.
Mon, May 25th,
Sat, Jul 4th,
Mon, Sep 7th,
Thu, Nov 26th,
Fri, Nov 27th,
Thu, Dec 24th,
Fri, Dec 25th,
Changes at the Library
The state budget has been finalized. We thank all of you who have supported the library and contacted our governor and state officials, but the board of the Galion Public Library regrets to have to make some changes. The details will be on the
home page
and posted at the desk through the month of August.
Although the libraries will see about an 11% cut rather than the 30% initially feared, this coupled with declining tax revenues will still produce a decline of over 30% from the library's 2008 budget. Unfortunately, this may not be the end of the funding crisis, since tax revenue for the rest of the year may decline further.
With the loss of over 30% of our funding this year, and the possibility of further reductions, the following changes will go into effect on August 1
st
:
Hours of operation will stay the same for now, although this may need to be reevaluated later.
The budget for new materials, frozen while the budget was in limbo, will be partially reinstated, but at a reduced level. Next year the new materials budget will be cut 50%.
To save on our significant postage costs, we will no longer be sending overdue notices by US Mail. (However, the email overdue notice service will still work. If you would like to receive notices by email, stop by the desk and make sure we have your current email address.)
We apologize, but we can no longer continue to provide free copies. Regular one-sided letter-sized black and white copies will be 25¢, and double-sided 35¢
Book fines will be going up to 10¢ per day, and DVD fines back up to $1 per day. The maximum fines will also be increased, so please, get your items back on time! Also, in order to check out, the fines and fees on your account will need to be $1 or less.
A volunteer book-shelving program will be organized sometime in the next few weeks. Watch for more details soon.
All staff will be accepting a salary reduction of 2% across the board, in order to keep most of the staff working. We will also be instituting a hiring freeze, and retiring staff will not be replaced at this time. This includes the positions for which we just finished receiving applications: the positions will not be filled at this time.
Further changes may be needed. The library board will be meeting monthly to monitor the budget and determine what needs to be done. Our top priority is to provide you with the best service we can on the budget that is available.
Learn to Croknit
Are you interested in learning to knit or crochet? Join our crafts circle and try Croknit, an easy stitch that allows you to knit and purl using one needle only. Register at the main desk. We'll need yarn, so if you have some that we could use, bring it along.
Wed, Aug 5th, 6-8pm
.
End of Summer Party: Master the Art of Reading
Join us for games, refreshments, and the grand prize drawing to celebrate the end of the Adult Summer Reading program. With the current funding situation for Ohio libraries, refreshments and snack foods would be greatly appreciated. Please sign up at the main desk if you are planning to attend.
Mon, Aug 3rd, 6-8pm
.
End of Summer Reading Party
As the Summer winds down, teens can come to the library after hours for Karaoke, a Name that Tune contest, games, Freestyle Art and other events. We'll also draw for the Grand Prize in the Summer Reading Program: a $50 gift certificate to Barnes and Noble. Door prizes will also be given and refreshments will be served. Registration is required.
Fri, Aug 14th, 7-10pm
.
First Thursday Book Discussion Group
Our
first-Thursday book discussion group
is starting back up for the fall. Each month we all read the same book then come together to discuss it. Join us here at the library in the community room. For more information see Cyndi.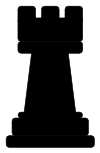 Game Nights: A GPL Summer Tradition!
Bring your friends and your favorite board game, card game or a favorite hand-held game system, such as PSP, DS or Game Boy. We'll provide chess sets and refreshments. No registration, just show up.
Photos from the one in May are in the photo gallery
.
Thu, Aug 6th, 6:30-8:15pm
,
Thu, Jul 16th, 6:30-8:15pm
, and
Thu, Jun 4th, 6:30-8:15pm
.
Closing @ 5pm
The library will close early on the evening before the holiday.
Thu, Dec 31st at 5pm
.